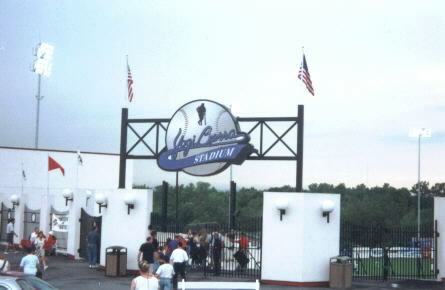 Yogi Berra Stadium

Opened--1998

September 1, 2000--Allentown Ambassadors 1, New Jersey Jackals 0 (6 inn)

Northern League--Independent

Former Major Leaguer--None, but Mark Lemke was listed in the program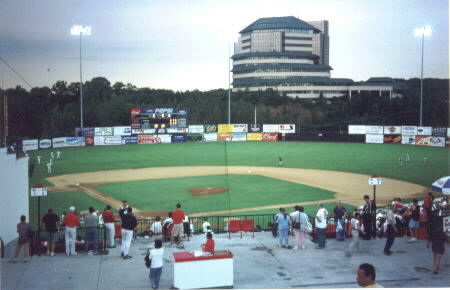 Yogi Berra Stadium, located on the campus of Montclair University in New Jersey is home to the New Jersey Jackals of the Northern League. The Stadium has no front to it, just an entrance at the main gate where everybody enters from. Once inside the stadium it pretty much is like most of the other cozy little parks springing up all over the place. I was there for the last game of the regular season. Beer and sausage & peppers were buy one get one free, so that was pretty good. Another thing that I liked was that the seats that made up the seating bowl were red, not the standard green like in most other places. They have a nice area down the RF line that is just GA seating on the lawn, mostly families with little kids sit there so the kids can run around.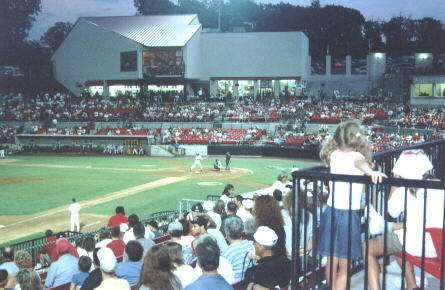 The lines for the concessions were a tad long, but that could be due to the 2 for 1 deal. They have a gift shop which was also having a sale. I didn't like the fact that there is no covering, and when it started to rain I really didn't like that. Plus sitting on the metal benches when the lightning struck didn't make for a pleasant evening either. The game was called after 6 innings. A lot of people stood under the overhang of the one SkyBox, yes just one to stay dry. The SkyBox is attached to the Yogi Berra Museum and Learning Center which charges 4.00 to get in, which isn't bad because parking is free. It's a nice little walk through place if you have the time. I think they should have named this place Yogi Berra Park or Field, Stadium makes it sound too big, with the other names it would of had a much more minor league feel to it.
Stadium Rating: C+
2005 update : The Northern League is now known as the CanAm League