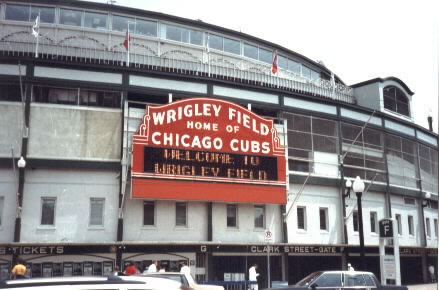 Wrigley Field--Chicago, Illinois

Current home of the Chicago Cubs
Last World Championship - 2016 (4-3 vs. Cleveland Indians)
Last Playoff Appearance - 2016 (NL Cent Champs - W World Series)

Opened--1914

July 23, 1991--Chicago Cubs 8, Cincinnati Reds 5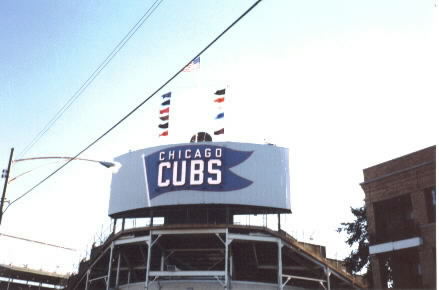 I stayed with a friend in Chicago, who lived within walking distance of Wrigley. There is quite a difference in the North side of Chicago, where the Cubs play and the South side, where the White Sox play. Wrigley is the oldest park in the NL & second oldest in all the majors. We came up on the stadium from the back entrance, this was my first look at Wrigley. The other side of this is the famous hand operated scoreboard. Of course they also have the Ivy covered walls that look great when in full bloom.
The game was soldout, but this being to only time I would be able to catch a game we scalped. $20.00 for a six dollar ticket, but it was well worth it. Our tickets were out in the Bleacher section, so we knew we were in for a good time. Plus it was a night game which are still pretty rare at Wrigley, It was quite an experience. They also have the best Hot Dogs I have ever tasted in the Majors.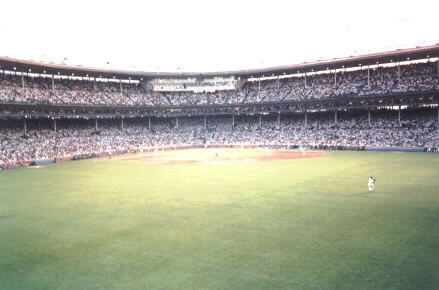 Wrigley was the last Major League stadium in install lights. The first night game was in August of 1988. Ironicly, it was rained out. Like most older parks, the concourse is cramped and dark and parking is a nightmare. Come early, enjoy some of the many bars around the park. The Cubs pack 'em in on a daily basis. Win or lose, the fans continue to come out. Like Fenway, Wrigley should be visited by anybody who calls themselves a fan of Baseball or a fan of Stadiums. Wrigley will be gone someday, so if you haven't been there I suggest you get there soon.

For more on the Cubs check out www.cubsposter.com
www.chicago-cubs-baseball.com

Stadium Rating : A+