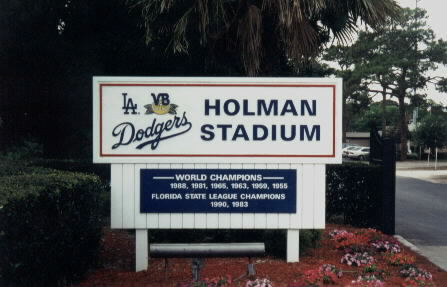 Holman Stadium--Vero Beach, Florida

Opened--1953

Spring home of the L.A. Dodgers

March 16, 2001--Los Angeles Dodgers 3, Montreal Expos 2

Grapefruit League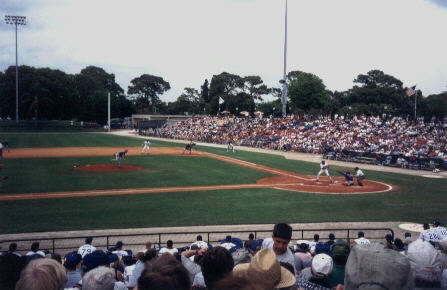 Holman Stadium is one of the oldest stadiums in the Grapefruit & Florida State League. It is set away in a little place called Dodgertown in Vero Beach. Golf Carts are the main method of transportation. The park is very simple. There is just one level of seats that go back about 20 rows or so. To make up for the lack of building up, they built long. The seats go from foul pole to foul pole.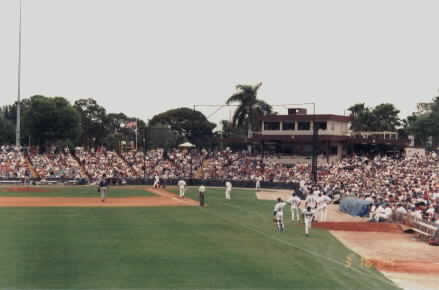 There is a walkway at the top of the seats where you can walk around the park. The concession stands are behind home plate. This is also where the press box is located. Up until a couple of years ago they didn't have any outfield fences. Lots of kids hang out just beyond the leftfield fence and watch the game and wait for home runs.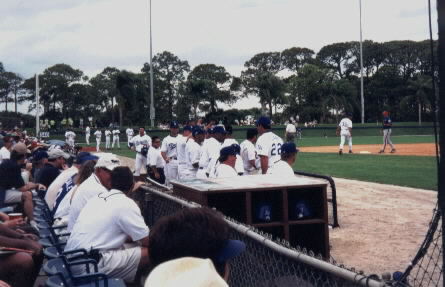 By far Holman Stadium has the easiest access to the players. They have no dugouts, just benches where the players can watch the game. After the game the players have to walk off the field and exit down by rightfield. This is an excellent opportunity to grab some autographs, and isn't that what spring training is all about? It's the time of year when players take the time to stop and sign and talk to the fans. In my opinion, Holman Stadium is the crown jewel of the Grapefruit Leage.

Stadium Rating : A