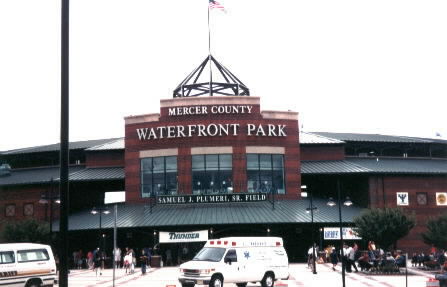 Mercer County Waterfront Park

Opened--1994

September 4, 1999--Trenton Thunder 4, Norwich Navigators 1

Eastern League-AA

Future Major Leaguers--David Eckstein, Nick Johnson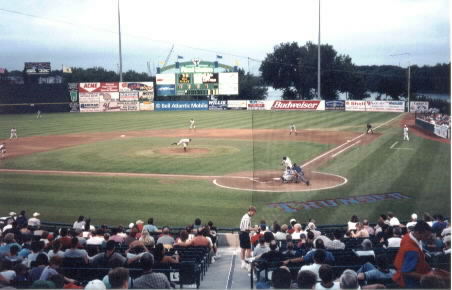 Mercer County Waterfront Park is the home of the Trenton Thunder, The Boston Red Sox AA farm team. It's a nice little park set in the Capitol City of New Jersey, which happens to boarder right on Pennsylvania. Actually (though not seen in this shot)there is a water tower just passed the rightfield fence that is in Pennsylvania. The Deleware River runs along the RF line as well.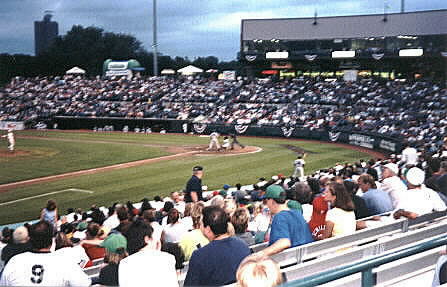 The ticket prices are as low as 3 dollars, if you don't mind standing. If your lucky enough, you can slide into the sections of aluminum bleachers down the LF or RF lines and sit for the game (like I did). Located on the brick facade where the press box is located are the three retired numbers, #5, 33, 42. Nomar Garciapara Tony Clark, and Jackie Robinson. Of course with the minor leagues, you get the minor distractions, like the very annoying mascot. On this night we were treated to not one but two because the Trenton Titan was also at the game promoting the upcoming Hockey season.
Stadium Rating : B-
2004 update : The Tunder are now the Eastern League affiliate of the New York Yankees