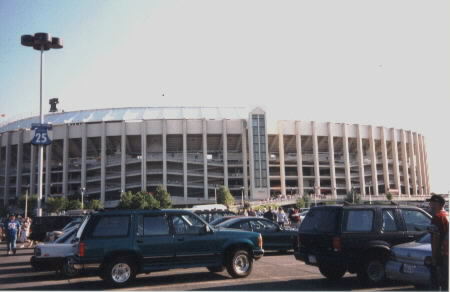 Veterans Stadium--Philadelphia, Pennsylvania

Former home of the Philadelphia Phillies
Last World Championship - 1980 (4-2 vs. K.C. Royals)
Last Playoff Appearance - 1993 (NL East Champs - L World Series)

Opened--1971, Closed--2003

May 23, 2002--New York Mets 1, Philadelphia Phillies 0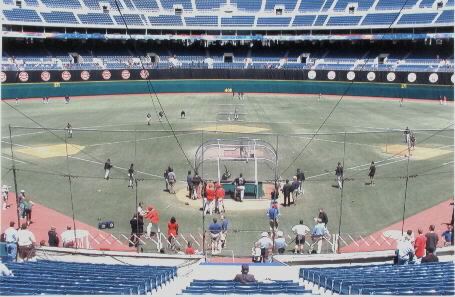 After 70 years of calling the Baker Bowl and Shibe Park home, the Phillies moved into their brand new "state of the art" multi-purpose stadium in 1971. Veterans Stadium, or simply known as "The Vet" is just another early 70's assembly line stadium. The Vet has no character, no charm, but it does have some atmosphere. Phillie fans are very vocal and don't take kindly to losing. During Eagle games the fans get so out of hand that they set up temporary jails. The food at The Vet is quite good though, for cheesesteaks there is none better.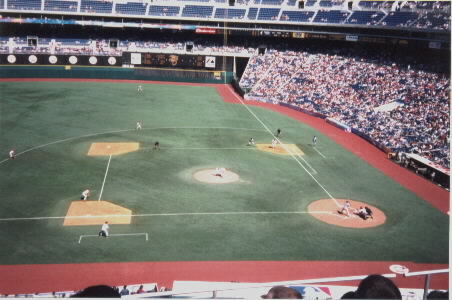 This was my first trip back to see baseball in over 10 years. The organization has done a nice job tring to bring the park up to par with others. The concourse has giant oversized baseball cards of current Phillies. A Philadelphia baseball Wall of Fame, and a large plaque celebrating the 1980 World champions.They have a speed pitch, a video batting game and a you call an inning booth. But it still remains narrow and crowded. They have replaced the multi-colored seats with all blue seats, and replaced the worst playing surface in the league with the new Field Turf, for a more natural look. Above the fence in the outfield are banners for the championships and retired numbers.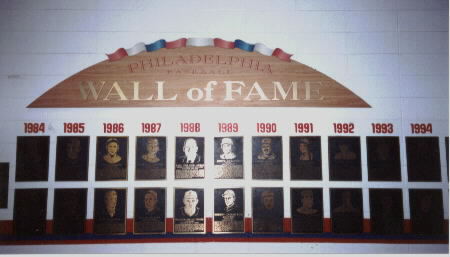 The Vet has served as a good home to the Phils. They had some very good teams here in the '70s and won their only World Series in 1980. Like many other stadiums built during that time period time has passed it by. The Phillies are to move into their new "retro" park in 2004, on the same complex. With each passing year we see one more of these dinosaurs being put to rest.

Stadium Rating : D+

To see The Vet set up for football click here.