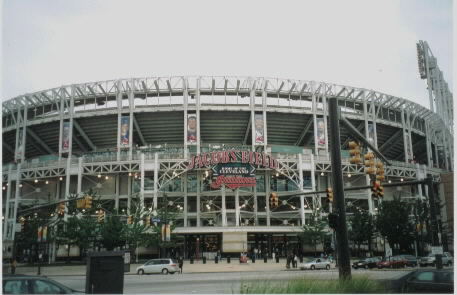 Jacobs Field--Cleveland, Ohio

Current Home of the Cleveland Indians
Last World Championship - 1948 (4-2 vs. Boston Braves)
Last Playoff appearence - 2016 (AL Central Champs - Lost World Series)

Opened--1994

August 13, 2004--Cleveland Indians 8, Minnesota Twins 2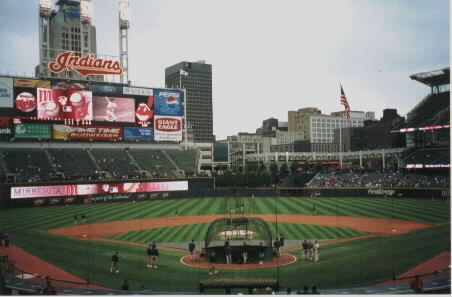 At Last ! 10 years after it opened I made it to the Jake. I had tickets back in 1994 for almost the exact same date, but as well all know, due to a work stoppage the tickets were never used. It was well worth the wait. After playing in the huge Cleveland Stadium for almost 60 someodd years the Indians got their state-of-the-art "retro park" located in downtown Cleveland. It's a party atmosphere, we were greeted by a live band as we walked up to the park. Once inside, the experience just got better. Wide concourses provide plenty of room to move about. Friendly ushers who let us move about the park freely.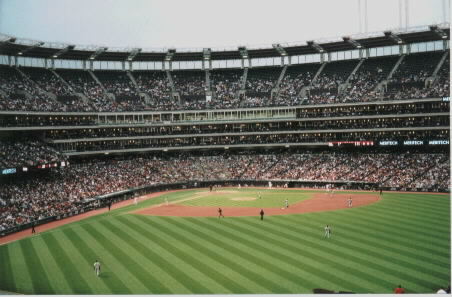 Eventhough the string of consecutive sellout stopped, there was still a nice crowd. One thing a did notice was that the entire middle section of the park is luxury boxes. This takes seats away from the common folk, but it's the luxury boxes that get places like these built. The only park of the park I couldn't get to were the bleachers which were gated off. There is even a litle section for kids to play during the game to keep them from getting bored.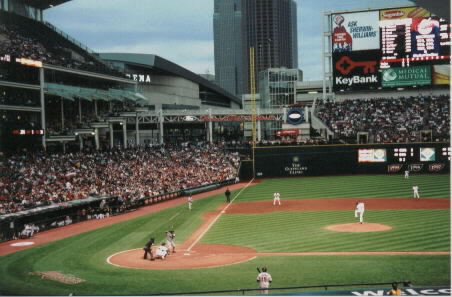 Jacobs Field is home to one of the biggest scoreboards in the majors, but a lot of it is ads. I thought the out-of-town scoreboard was good, but i have one complaint. It gives the score, inning, number of outs, baserunners and even who's up. The only problem is it scrolls along the leftfield wall, so you have to wait for the game you're looking for. If they didn't show the late games that will start after the Indian game is over they probably could just keep the games that are in progress on the display. But hey, that's a minor complaint for such a great park. The food was ok. Best onion rings my friend ever had. Parking was only $ 5.00, if you don't mind a five to ten minute walk. Only being to 5 of the newer "retro parks" I would put Jacobs Field at the top of the list.

Stadium Rating--A+