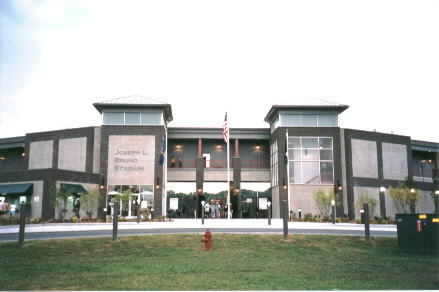 Joseph Bruno Stadium--Troy, New York

Opened 2002

August 2, 2002--Jamestown Jammers 7, Tri-City Valley Cats 4

Short Season Class A--New York Penn League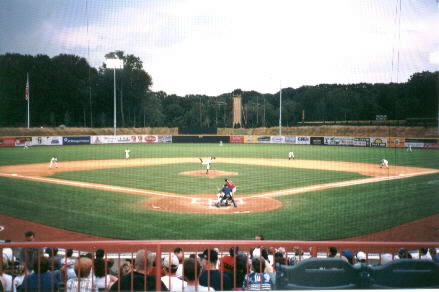 Bruno Stadium is the home of the Tri-City Valley Cats, formally known as the Pittsfield Astros. After playing last season in historic Wahconah Park the Cats moved about 40 miles west into New York state and into the very generic Bruno Stadium. The park is located on the campus of Hudson Valley Community College. It's a step up from Wahconah as far as amenities, but as said before, too generic. You enter the park from the main enterence behind home plate. You are already on the concourse area which is not covered at all ( this would prove to be a problem later in the game when the skies opened up ).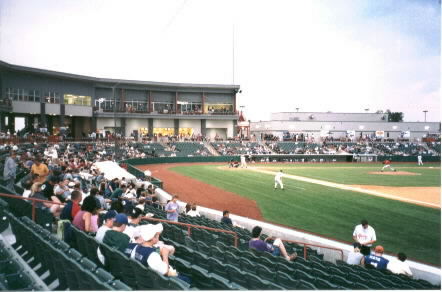 The only covering is from the luxury boxes above the concession stands. There are concession stands to the left and the right. Standard ballpark fare is served, hot dogs, cheeseburgers and nachos. The food was reasonable in price. The programs however were $3.00 but did come with a free scorecard, and parking is free. In leftfield is the scoreboard, with line score and video screen, like in Brooklyn, the numbers are in red. This seems to be the new thing. These types of bulbs last longer then standard bulbs. Down the rightfield line is a party tent and a grass berm where some people sit and watch the game.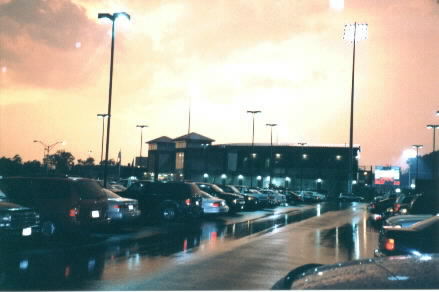 During the third inning several bolts of lightning could be seen and the sound of thunder became quite loud. This was followed by rain of biblical proportions. With nowhere to hide due to lack of coverage everybody got very wet. I happened to be sitting at a picinic table with an umbrella eating my hotdog. I stayed dry as long as I could. With a long drive home ahead of me I headed for the exits. In all my life I have never seen the sky this color at 8:30 at night. My Bruno Stadium experience was a wet one but I wont let that be a factor in my rating of the park. It's a nice enough park for the purpose it serves, just very bland.

Stadium Rating : B-