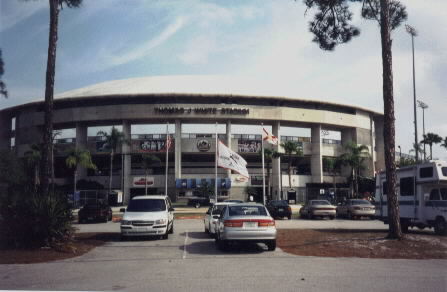 Thomas J. White Stadium--Port St. Lucie, Florida

Opened--1988

Spring home of the New York Mets

March 17, 2001--New York Mets (ss) 3, Baltimore Orioles 1

Grapefruit League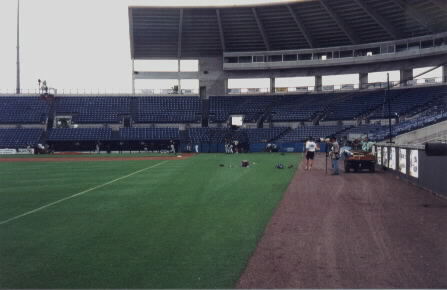 We arrived at the stadium at 9:30 am for a 1:10 game. We walked around the complex and got several autographs. They don't let you into the stadium until 11:00 am. Once inside, the park looks like Municipal Stadium in Binghamton (I know St. Lucie was bulit 4 yrs earlier).
Maybe it was the blue seats, or the same layout, but I felt like I was in Binghamton.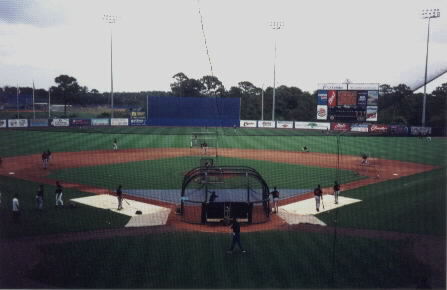 The park is mostly concrete, and not very attractive from the outside. You come into the park by walking up a series of ramps and entering between the 100s and the 200s. The concession stands are located on the concourse outside of the seating area. This is another characteristic of the late 80's early 90's minor league park. The food was standard ballpark food, hotdogs, regular and foot long variety, pretzels and the like. The lines were short and the food was reasonably priced.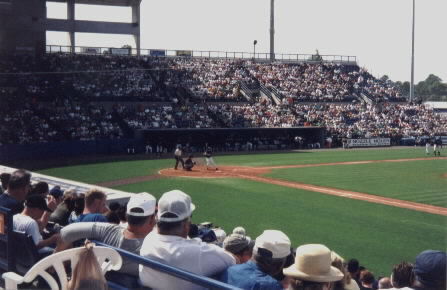 The game was played at a quick pace, which was nice because we had to catch the nightcap at 7:00 in Jupiter. There is talk of the Mets leaving St. Lucie and moving to West Palm Beach to share a stadium with the Baltimore Orioles. They say they do not draw very well. The day we were there they had a very nice crowd. It was a Saturday though, and the Mets are the defending 2000 NL Champs this spring. Maybe they didn't draw on Tuesday nights when they were finishing in 5th place in the NL East. As for a spring & FSL facility it is a fine place to take in a game.


Stadium Rating : B