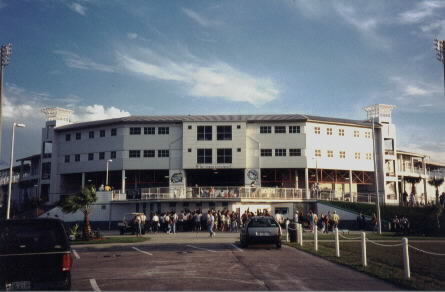 Space Coast Stadium--Viera, Florida

Opened--1994

Former Spring home of the Florida Marlins
Now home of the Washington Nationals

March 16, 2001--Houston Astros 9, Florida Marlins 3

Grapefruit League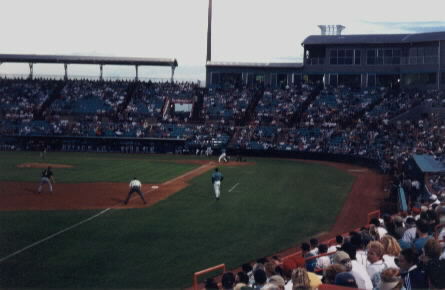 Space Coast Stadium was the place for our second game that day. It is the spring home of the Florida Marlins. I think the Marlins are the only team to go south when the season starts. I wasn't very fond of this park. It seemed a bit big for spring & FSL ball. It is pretty much in the middle of nowhere. The seating bowl is made up of plastic teal folding seats. There are GA seats down the lines, but they really aren't GA because the tickets have seat numbers on them.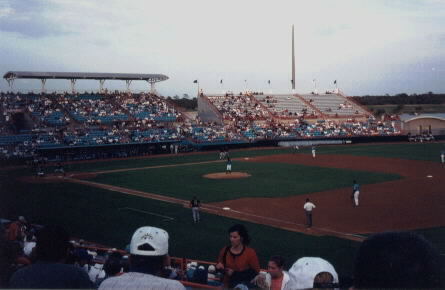 Like most of the late 80's early 90's stadiums, the concession stands are located outside of the main seating area. Unlike most of the parks being built today, where you can wait on line and still see the game. Parking was plentiful, but it was $5.00. Of all of the parks I saw in Florida the Marlins by far had the worst program. It was just a scorecard with an insert with the rosters on it, and they charged a buck for it.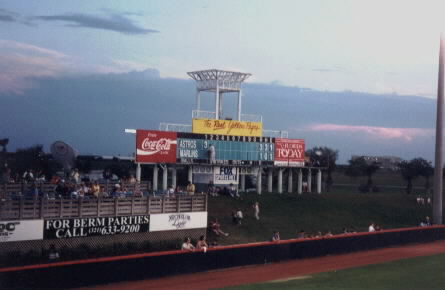 The one thing I did like about Space Coast was the hand operated scoreboard. There was no electric scoreboard, so you never knew who was up or what the batter did that game. Just beyond the leftfield fence is a berm with a picnic area which people can rent for the evening. You have to have a ticket to this area to get in. The fences are much lower in leftfield than in right (more people have a chance at some home runs). All in all it's a decent place to see a game, nothing too extraordinary.

Stadium Rating : B-