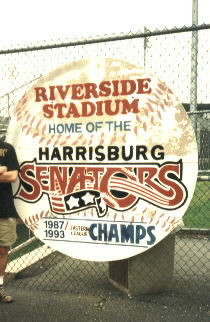 RiverSide Stadium--Harrisburgh, Pennsylvania

Opened--1987

July 22, 1995--Harrisburgh Senators 7, Trenton Thunder 3

Eastern League-AA

Future Major Leaguers--Jose Vidro, Nomar Garciaparra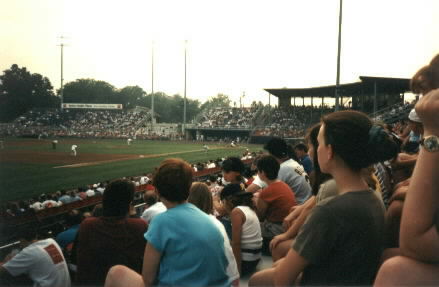 RiverSide Stadium is the home of Harrisburgh Senators, the AA farm team of the Montreal Expos. Located on an island in the middle of the Susquehanna River, the Park has a very nice backdrop to it. The Stadium itself, on the other hand is not very nice to look at at all. The Grand Stand has a metal roof over the "box" seats but it is held up by support beams, for a stadium built in the mid-eighties one would think they would have conquered the use of support beams. These lead to obstucted views behind Home Plate. The rest of the seating is pretty much aluminum benches down both lines. The night I was there I experienced a large bug problem. They were falling from the sky like snow flakes, by the 7th inning I could take no more.
Stadium Rating : C