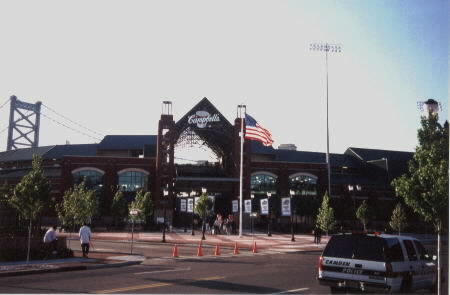 Campbell's Field--Camden, New Jersey

Opened--2001

May 23, 2002--Bridgeport Bluefish 7, Camden RiverSharks 3 (11 inn)

Atlantic League

Former Major Leaguer--Dwayne Hosey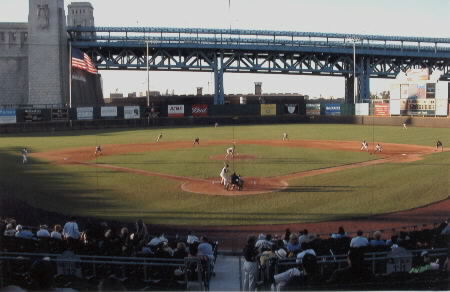 Campbell's Field is the home of the Camden RiverSharks of the Atlantic League. It sits just across from the city of Philadelphia, separated by the Delaware River. The parks layout is similar to mostly all of the parks built during the minor league boom. The outside and inside most resembles Somerset Ballpark. There is one major difference with this park though, it has the best view of any minor league park I have been to, especially in the Atlantic League. I used to think Bridgeport had the best view until I came here. The Ben Franklin Bridge dwarfs the park. You have a great view of the bridge from anywhere in the park. You also have a nice look at the skyline of Philadelphia from the 1st base side.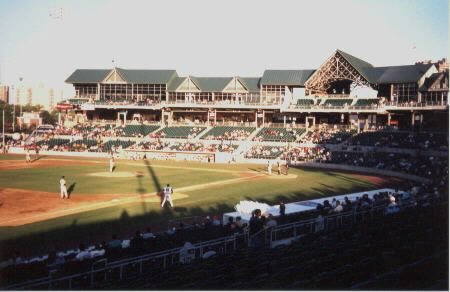 The seating is broken up between the "Box" seats and reserved seats, nine and seven dollars, respectively. The park has a Gift Shop located on the concourse, which of course is located atop the seating bowl. The concession stands have clever names like the Batters Box, Home plate and the like. The food was standard, hot dogs, burgers, fries and chicken sandwiches. Two things that were missing from the menu were cheesesteaks, being so close to Philly, about a 10 minute drive and soup, I mean the place IS called Campbell's Field.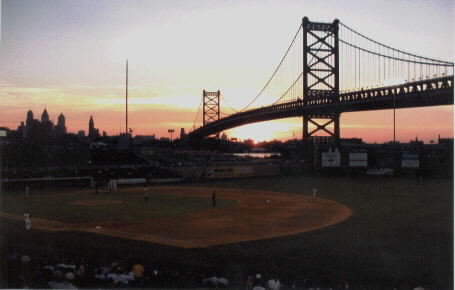 Three things that stood out about this park, other then the setting were not a lot of advertisements on the fence. There were a lot above the fence but not on it. It is the only minor league park that I have seen with auxiliary scoreboards down each line, nice touch, and they have a nice fenced in playground for the kids. Be aware if you sit on the 1st base side, you could be in trouble when the sun sets, it gets pretty bad. Parking was plentiful and only two dollars. A nice change of pace for people who don't want to spend a ton of money for a Phillie game. I guess the best way to describe Campbell's Field is...mmm, mmm, good.

Stadium Rating--A