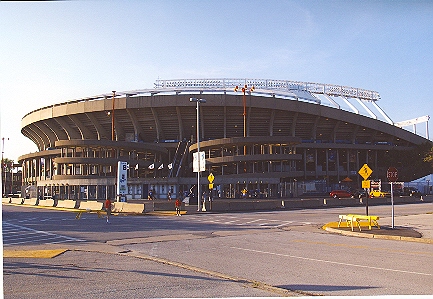 Kauffman Stadium - Kansas City, Missouri
Current Home of the Kansas City Royals
Last World Championship - 2015 (4-1 vs. New York Mets)
Last Playoff Appearance - 2015 (AL Central Champs - Won World Series)
Opened - 1973
August 5, 2006
Minnesota Twins 14, Kansas City Royals 3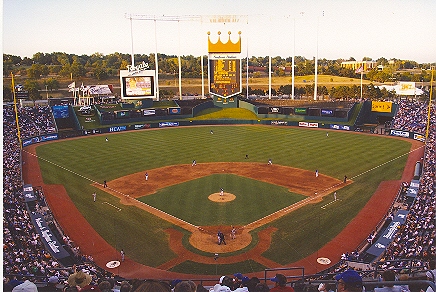 Situated in the Truman sports complex, across the way from Arrowhead Stadium, the home of the Chiefs is Kauffman Stadium. Kauffman Stadium has been home to the Kansas City Royals since 1973. At one time it was the only park in the American League that had AstroTurf. They replaced the turf with grass in 1995.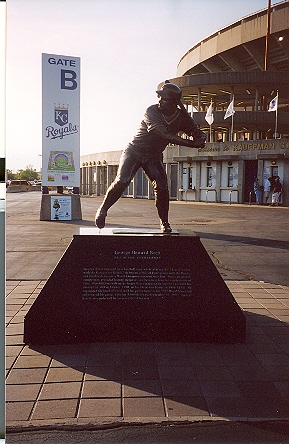 Reminding fans of a better time, statues of Royals greats, George Brett & Frank White are outside the Stadium, as is a statue of late owner Ewing Kauffman & his wife. When I walked into the stadium I thought something felt familiar. It resembled Giants Stadium in New Jersey. The ramps leading to the upper deck with the escalator running down the middle of the ramps. Even the turnstyles were the same, situated behind the chain link fence. Turns out they were built by the same Architect firm, HNTB. Ofcourse, Giants Stadium opened 3 years later so Kauffman had the look first.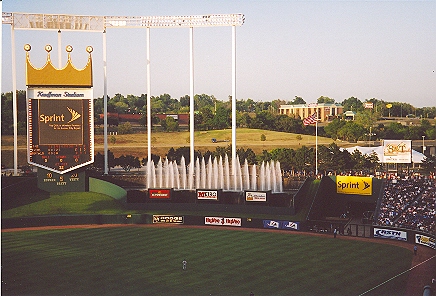 Once I got to my seats I was treated to one of the nicest views in baseball. I've seen it on tv for so many years, but seeing the scoreboard with the giant crown atop it in person was quite a thrill. Same with the fountains in the outfield. Just passed the scoreboard & fountains is I-70. The park is right off I-70, so access in and out of the park is easy. You can't walk around the whole stadium because of the fountains. Just beyond the fountains in rightfield are picnic tables and several concession & souvenir stands. Beyond that is the Little "K" where kids can play whiffle ball. Also along the firstbase side is a playground. It is one of the most fan friendly parks I've ever been to. The park is clean and the ushers were polite. Kauffman was ahead of their time with the open concourse on the field level as well.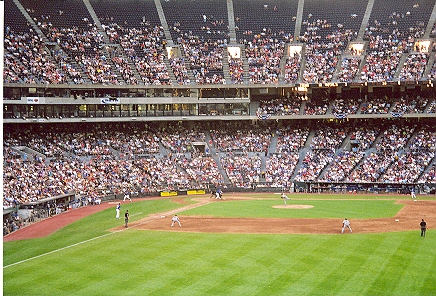 The Royals in no way need a new stadium. I liked it much better then it's cross-state park, the brand new Busch Stadium. There are plans to renovate Kauffman Stadium in the near future. In my opinon, it will only make the place that much better. There are plans for a restaurant, and to put seats behind the fountains. By doing this they will have to move the bullpens into foul ground down the 1st & 3rd base sides. Parking was not a problem and only $9.00 and a yearbook was only $5.00. I would rank Kauffman up there as one of my favorite parks I've been to.

Stadium Rating - A