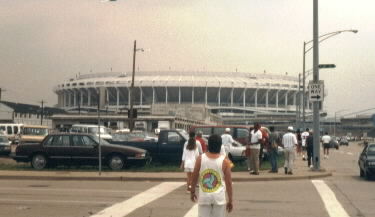 Riverfront Stadium--Cincinnati, Ohio

Former home of the Cincinnati Reds
Last World Championship - 1990 (4-0 vs. Oakland A's)
Last Playoff appearance - 1995 (NL Cent Champs L - NLCS)

Opened--1970, Closed--2002

August 3, 1992--Cincinnati Reds 4, Houston Astros 0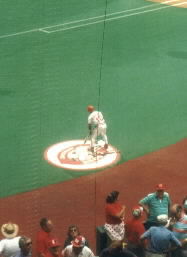 Bip Roberts in the ondeck circle. Bip had a pretty good day going 3-5 with 2 runs scored. That was about the most exciting thing about my trip to this no frills "Cookie Cutter." They built it on the banks of the Ohio River, but you can't see the river from inside the stadium, so what's the point ?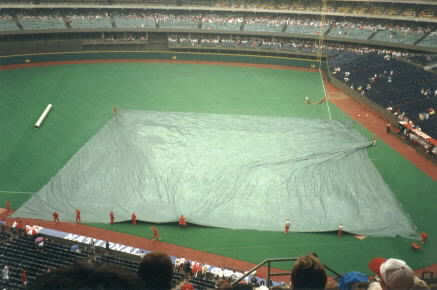 We got hit with a rain delay, so we took that time to walk around and drink in the local color. We found a speed pitch so we got on line and did that for a while. We were hoping to find a Reds Museum, since they have such a history, but alas, nothing to be found.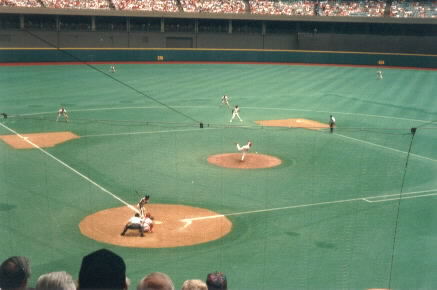 Game On !! That's the only good thing about AstroTurf, after it rains they can just zamboni up all the excess water and it's like it never rained. Riverfront has changed a bit since my visit. They now have grass and have opened the park up by taking away a lot of the seating that was used for Bengals games. Now it looks a lot like Shea Stadium, which isn't anything great either. The Reds new park is set to open in 2003. It will be a "retro" style park which are all the rage now.

Stadium Rating : D