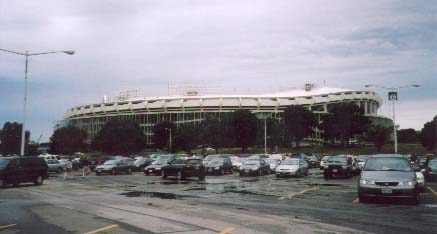 RFK Stadium--Washington, D.C.

Current home of the Washington Nationals
Last World Championship - None
Last Playoff Appearance - None

Opened 1961

August 28, 2005--St.Louis Cardinals 6, Washington Nationals 0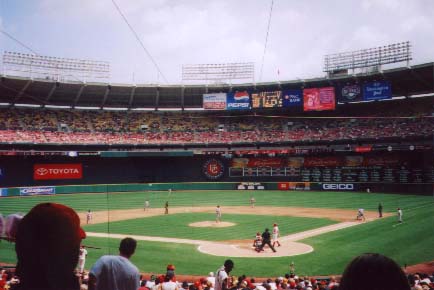 After a 33 year absence, Baseball returned to our Nations Capital. The Washington Nationals are the third team to have a go at it. They relocated from Montreal, as the former Expos. First were the Senators, but they left in the early 60's for Minnesota. Next were another version of the Senators. They also left, for Texas in the early 70's. Now we have the Nationals, a National league team after 2 failed American league teams. Where to start ? I'll start by saying RFK was possibly the worst stadium I have ever been to. I guess the 18 million dollars in renovation did not go to the park itself. Somewhere along the cramped & dirty concourse of the upper deck you can actualy see where they stopped painting the floor. But hey,at least it's not The Big O.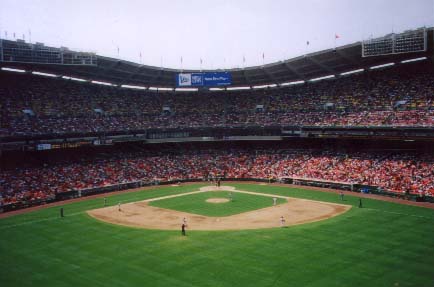 If you have seats in the 400's, like I did, you have quite a walk up the ramps to your seats. Not an escalator to be had. Our seats were under the scoreboard in rightfield so we had to make due with the aux. scoreboards. Your pretty far from the action from up there as well. Which makes the white seat in almost dead center that much more impressive. Frank Howard hit a ball that landed in said seat. So to honor him they painted it white. The rest of the seats are Redskin color. They tried to facny the place up with Nationals banners and such, and in rightfield they have the Washington sports Legends banner. Like most of the Cookie Cutters of it's time there is plenty of foul ground.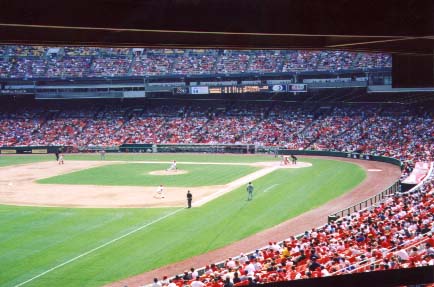 The box office is a trailer, as well as the team store. Didn't they have actual tickets booths when the Redskins played here ? Parking is $10.00, that seemed reasonalbe, but the lots are very far from the stadium. The Nats will have new owership soon and no longer be a ward of MLB. With new owership will come a new park. RFK is a good temporary home, I guess, but with all the shinny new parks parks popping up all over I guess I've become a little jaded in my old age. The original game we wanted to see was sold out, so we scalped tickets from Scotty the scalper. He also hooked us up in Baltimore, but that's another story for another time. Sold out ! I think there were more people here for that weekend series then the Expos had all of 2004. Like I said before, Hey at least it's not The Big O.

Stadium Rating : D-