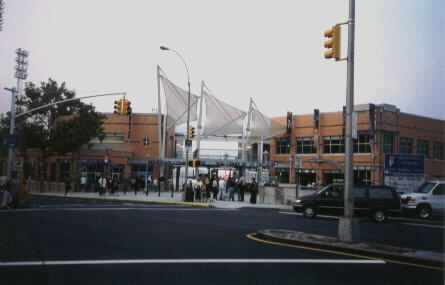 Richmond County Bank Ballpark at St. George--Staten Island, New York

Opened--2001

September 4, 2001--SI Yankees 7, Jamestown Jammers 6

Short Season Class A--New York Penn League

Future Major Leaguer - Robinson Cano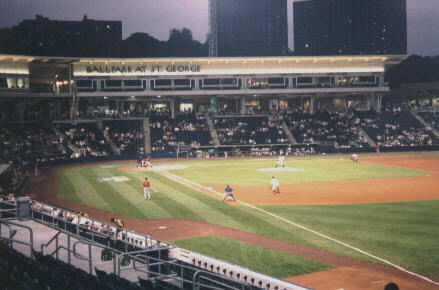 For the last two seasons ('99-'00) the Staten Island Yankees called The College of Staten Island home. The start of the 2001 season saw them move into their brand new park. It appears to be nothing but the best for the New York Yankees New York-Penn League team. RCB Ballpark is located right by the Staten Island Ferry drop off point on Bay Street. As you approach the park you will notice something different. It dosen't look like most of the parks opening today. The outside brick of the park is not the over used dull red but a nice sand color. There are also three white sails that hang over the main entrance of the park. Once inside, it's most of the same, or is it ? There is only so much you can do with the standard blue print for these parks, but the Yanks add the little things that make the difference. For starters, the seats are blue, just like at the Big Ballyard in the Bronx. A nice change from the forest green seats. They used very light colors all over the park. The interior is a nice shade of white. The seating bowl is not divided by the useless walkway that splits up the "sections".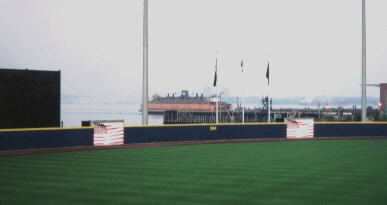 The concourse is located atop the seating bowl and is covered down both lines. Above the concourse are the luxury boxes. Again different from other parks, the press box is on the same level as the luxury boxes. This gives you a great view of the skyline of lower Manhattan, when standing behind home plate. Had it been a clear day, I could have seen it much better. From anywhere in the park you have a great view of the water with the SI Ferry going by and other assorted ships and barges. In rightfield is a nice picnic area, down leftfield is a kids section complete with speed pitch and a large blow up cow for children to bounce about. The cow is the mascot, Scooter, the holy cow. One thing I liked about RBC was the outfield fence. The norm for minor league parks is to have every inch of space on the wall covered with advertisments, some double or even triple decked. This is not the case here. They simply have 4 video walls on the fence. Each half inning is sponsered by somebody. For that half inning your ad is on the video wall. Even the sections of seats are sponsored. I'd rather see that than a wall of ads anyday. The food was reasonably priced, $1.75 for a hot dog and concession stands a plenty. I found $6.00 to park a bit much, but it could be because of the people commuting to Manhattan. RBC is a really nice place to see a game. But why such a long name?

Stadium Rating : A