Yale Field--New Haven, Connecticut

Opened--1927

June 15, 2001--New Haven Ravens 7, Binghamton Mets 0 (Gm 1)

Binghamton Mets 2, New Haven Ravens 1 (Gm 2)

Eastern League--AA

Future Major Leaguers - Jason Phillips, Heath Bell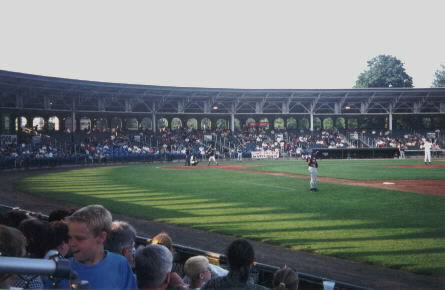 When I first saw the exterior of Historic Yale Field, my breath was taken away. When I got inside, however, things looked very different. The concourse was poorly lit and very crowded. I could only find one restroom, but hey what can we expect from a place that opened in 1927. When I got to my seats, again everything looked different. Our seats were located down the 3rd base line (not a good place to be for a 5:35 start). The sun was in our eyes for about an hour. The seats stretch from one end of the seating bowl to the other with bleachers located down the left and right field lines. There is another section of bleachers just beyond the RF fence. The seats themselves range from "box" to reserved to aluminum bleacher type seats. The very last row of seats are wooden and could be the original seating from way back when.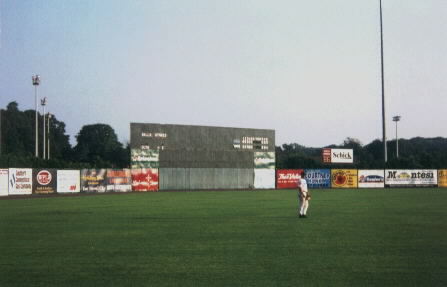 Down the 3rd base line is a "bar" where you can watch other games on the TV's,(I found myself watching the Met/Yankee game) down the 1st base side is the "Luxury Box". This had 3 men watching the game in leather recliners. Yale Field is rich in history, we all know former president George Bush played there in college. I liked the CF scoreboard, big, green, hand operated, just like the old days. It got a little loud with everybody stomping on the aluminum flooring under the seats and the seats are a bit removed from the field of play, but with its beautful arches, (look when the sun sets behind the park at the arches shadows on the field) atmosphere and history it is a change from the carbon copy parks sprouting up all over the Eastern League and around the minors today.

Stadium Rating : B+

2004 update : The Ravens have left Yale Field for New Hampshire.
The park is now home to the New Haven County Cutters of the Indy Can-Am league.