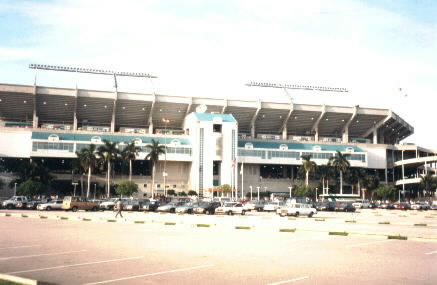 ProPlayer Stadium--Miami, Florida

Current home of the Florida Marlins
Last World Championship - 2003 (4-2 vs. N.Y. Yankees)
Last Playoff Appearance - 2003 (NL Wild Card Winners - World Series Champs)

Opened--1987 (1993 for Baseball)

June 10, 1993 -- Florida Marlins 4, Pittsburgh Pirates 3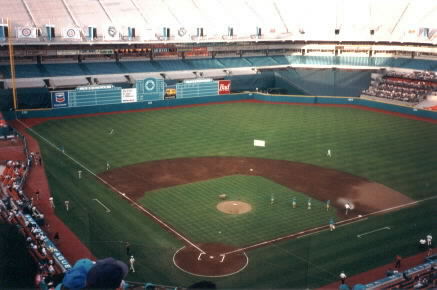 ProPlayer Stadium was originaly the home of the Miami Dolphins. When Major League Baseball granted an expansion team to the city of Miami, the Marlins were born, and ProPlayer became the home of the Marlins as well. They did do a nice job turning the Football only stadium into a baseball field. With the short distance to the LF fence, to keep balls from flying out they made a mini "Green Monster" called the "Teal Monster."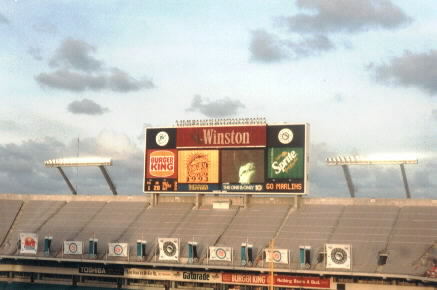 Stadium Officials knew they would never sellout, even in the inagural season, so the outfield upperdeck seats were always covered. They did uncover them during the 1997 World Series, but after that Championship team was broken up, the covers came right back out.
They did take them off again during the 2003 post season.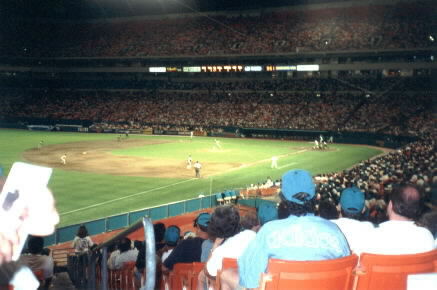 The Marlins don't get crowds like this anymore, and that's too bad. I thought the sightlines were good for baseball, some seats were on wierd angles, but that's common in most stadiums. The teams new owner wants a Baseball only stadium and that could help the Marlins at the gate. Let's hope they get something, because those fans have been through enough.

Stadium Rating : B