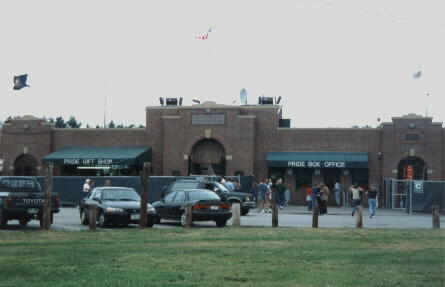 Holman Stadium

Opened--1937

July 15, 2000--Nashua Pride 6, Newark Bears 5

Atlantic League--Independent

Former Major Leaguers--Sam Horn, Casey Candaele, Milt Cuyler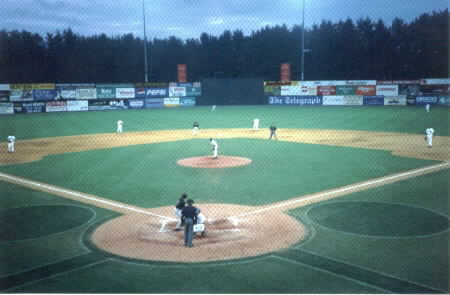 Holman Stadium in Nashua, NH is the home of Nashua Pride of the Atlantic League. Printed on the tickets it reads "The most historic stadium in New England". I think Fenway might have a bit more history. But, you can't deny Holman of the history it does have. Back in the 1940's it served as the home field of the Nashua Dodgers, a farm team of the Brooklyn Dodgers.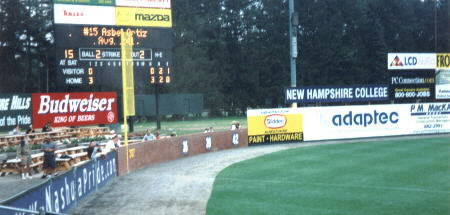 On a short brick wall in LF are the retired numbers 39, 36, 42, for Roy Campanella, Don Newcome, and Jackie Robinson, although Robinson never played in Nashua. On the front of the Press Box they have the numbers of the players who have gone on to the Major Leagues.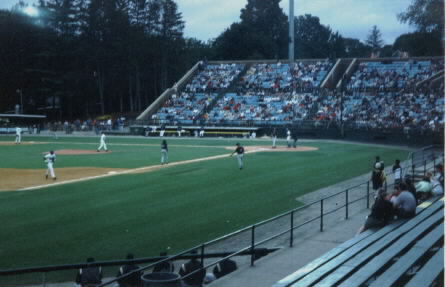 The stadium is surrounded by tall Pine Trees. I thought the seating was a bit far from the field (the seats are from old Fulton County Stadium). There are no covered seats at all, and no SkyBoxes. There are bleachers down the LF line, but they face straight out, so you have to sit on an angle to see the game. The food stands are located outside the seating area so if you get something to eat you miss some of the game. Actually, they are not stands at all but more like the food trailers you would find at a carnival. I could have done without the between inning antics, dizzy bat race, race the mascot and the dancing Monkey Boy. For a park that looks totally outdated in a league of sparkling new parks Holman has a real minor league feel to it.
Stadium Rating : A-