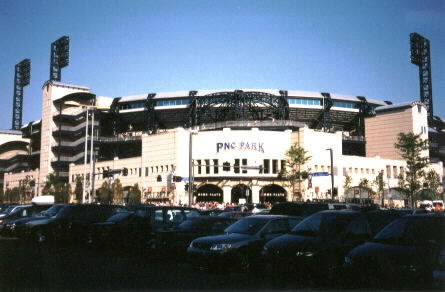 PNC Park--Pittsburgh, Pennsylvania

Current home of the Pittsburgh Pirates
Last World Championship - 1979 (4-3 vs. Baltimore Orioles)
Last Playoff appearance - 1992 (NL East Champs - L NLCS)

Opened 2001

July 20, 2002--Pittsburgh Pirates 11, St. Louis Cardinals 6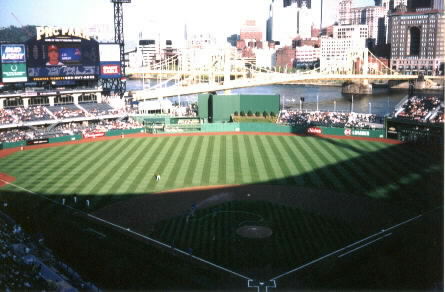 PNC Park opened in 2001 and is the brand new home of the Pittsburgh Pirates. After playing for 30 years in horrible Three Rivers Stadium the Pirates now have a beautiful baseball palace. The park sits on almost the same spot as the old yard. As you walk around the exterior of the park, which is a nice Limestone, a different look from the standard red brick you see statues of Honus Wagner, which has followed the team around since its Forbes Field days. The statue of Roberto Clemente didn't have to move far from its old spot.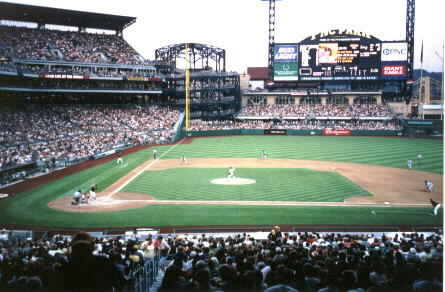 Once inside you are greeted with one of the best views in baseball. The skyline of Pittsburgh is just beyond the outfield on the other side of the river. There is also a great view of the Roberto Clemente Bridge. One of the ushers told us to go up to section 316 for the best view. Another thing that sets PNC apart from the other new parks are the navy blue seats, not the standard green. It's the little things that set these "retro" parks apart from one another. The concourse is wide but can get tight it there is a big crowd. It is loaded with plenty of concession stands and a team store.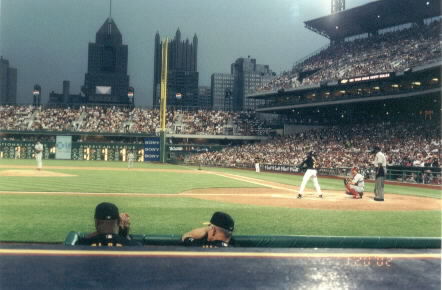 The out-of-town scoreboard is the best in the majors. Not only does it give you the inning and the score it tells you in a diamond form how many are on base and how many out. The main scoreboard in leftfield has a section on it for the hearing impaired. The park was built with only 2 decks, so even if you're seated in the upper deck you're not that far from the field. The luxury boxes are tucked nicely between the lower and upper deck. The press box is located atop the upper deck. Being a small market team the capacity of the park is under 40,000. The Pirates went from one of the worst stadiums in baseball to one of the best.

Stadium Rating : A