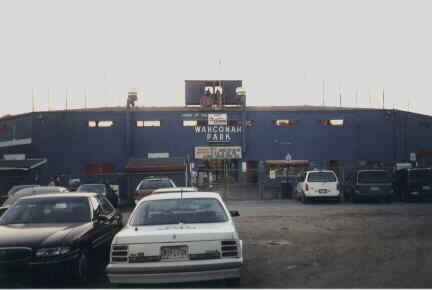 Wahconah Park--Pittsfield, Massachusetts

Opened--1919

August 10, 2001--Pittsfield Astros 2, Hudson Valley Renegades 1

Short Season Class A--New York Penn League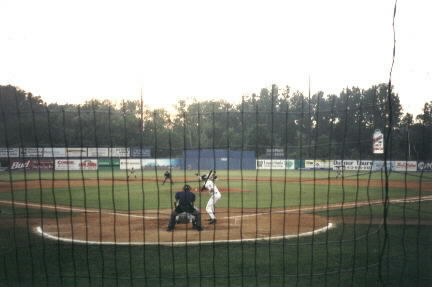 Wahconah Park is located in the Berkshire Mountains of western Massachusetts. It is the home of the Pittsfield Astros, single A affiliate of the Houston Astros. I like an old park just as much as the next guy, but this one just didn't do it for me. Let's start with our seats. Sure they were two rows from the field, but they were folding metal chairs with paper thin seat cushions. Maybe it was late in the season but you would think they could paint them once in a while. The same goes for the "Grandstand". It is made of wooden bleacher type seats and is very tight with almost no room to walk at all. They do have decoy owls hanging from the rafters to stop birds from nesting. They also have wooden bleachers down each line.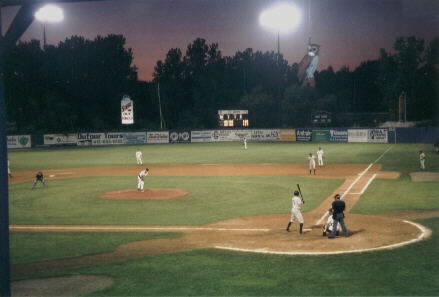 The park was also crawling with local teenagers who were there just for a place to hang out; they didn't watch or pay attention to the game at all. They only distracted the people who were trying to watch. The food was typical ballpark food, 2 dollars for a burger, the same for a dog. Parking is free, which is always nice. One thing that I heard about but did not experience was the "Sun Delay". Home plate faces the west in this park, so when the sun sets it can be very hard on the batter.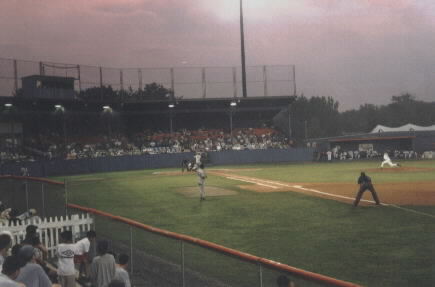 There are talks of the Astros moving across the state line to Troy NY (about 40 miles away) for the 2002 season, if not maybe I'll try this again next season. Could be I'm just so used to all these new parks built in the mid 90s and really didn't get the whole thing about Wahconah? I hope I'm not going soft in my old age.

Stadium Rating : C

2002 update : The Astros did move to Troy N.Y. , but don't fear
Wahconah Park will be used by an expansion team in the Indy Northern League,
The Berkshire Black Bears

2005 update : With the Black Bears now playing in Yale Field as the New Haven County
Cutters, the park is now home to the Pittsfield Dukes of the NECBL.