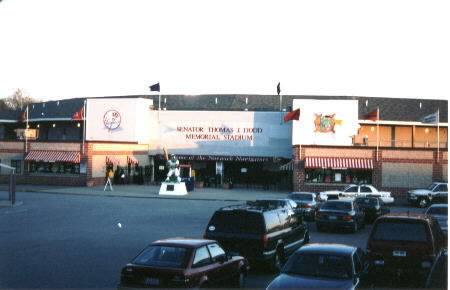 Dodd Stadium--Norwich, Connecticut

Opened--1995

April 26, 2002--Norwich Navigators 6, New Haven Ravens 3

Eastern League--AA

Future Major Leaguer - Andy Phillips, Coco Crisp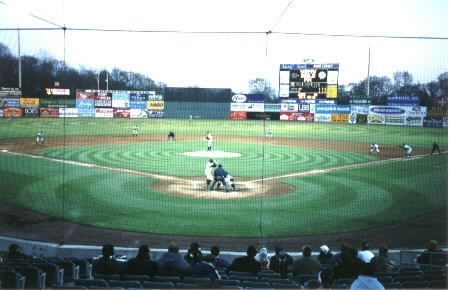 Thomas J. Dodd Memorial Stadium is the home of the Norwich Navigators, the AA Eastern league farm club of the New York Yankees. Opened in 1995, the park has pretty much the same features as all the parks that opened around that time. It has a spacious open concourse atop the seating bowl. It has the press box on the field level, so if you walk behind it you can't see some of the game. Above the press box are the Skyboxes, not to noticeable, the inside of the park is rather dull. They do provide cover though, if it rains. It doesn't have the break in the seating to separate the "box" seats from the reserve seats. I could never understand what purpose that serves.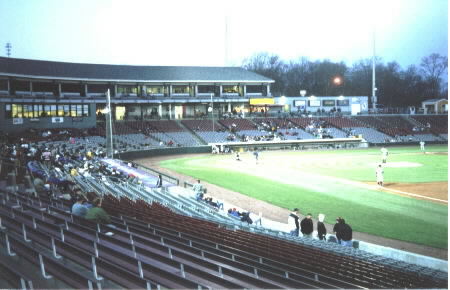 What is different from the other parks are the seats. They're not the standard dark green. The seats here are maroon and gray. The gray seats fold down, while the maroon seats are of the bucket variety. The cheap seats are aluminum bleachers with backs, these are down both lines. Food was standard ballpark food, burgers, dogs and the like. The program or "Yearbook" as they called it was $3.00. I felt this was a bit much for the quality of the publication, B/W photos and newspaper quality paper. Also, the cover said 2002 Norwich Navigators AA Affiliate of the World Champion NY Yankees. Didn't the PR people watch the World Series last year ? On the other hand parking was free and plentiful. And when the temperature dropped below 45 degrees, everybody got free coffee or hot chocolate. I thought that was a nice touch. One big problem is where the park is located. It's off of I-395 and in an Industrial park. Once you enter the park it's about a 5 to 7 minute drive to the ballpark. It's only one lane coming and going, so big crowds might produce a problem.

Stadium Rating : B-

2006 update : Dood Stadium is now home to the Connecticut Defenders, AA affiliate
of the San Francisco Giants