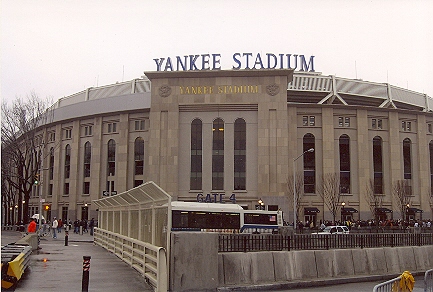 Yankee Stadium II--Bronx, New York
Last World Championship - 2009 (4-2 vs. Philadelphia Phillies)
Last Playoff Appearance - 2015 (AL Wild Card - L Wild Card game)
Opened--2009
April 3, 2009 -- New York Yankees 7, Chicago Cubs 4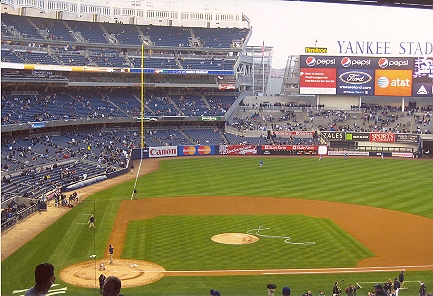 Yankee Stadium II is the new home of the New York Yankees.
Some people call it "new" Yankee Stadium, but the remodeled Yankee Stadium
that opened in 1976 is technically the "new" Yankee Stadium.
Yankee Stadium II has the classic look of the original "House that Ruth built"
complete with the "Frieze" that surrounds the upper deck,
but with all the comforts of the new modern parks.
One could call this stadium "The House that George built"
The exterior of the park is breathtaking.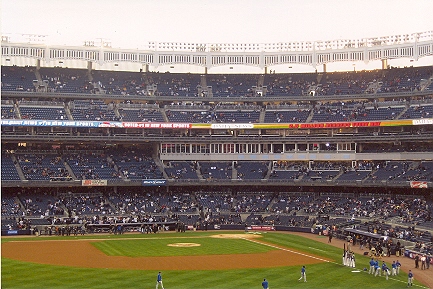 Because of it location , parking is still be a problem. The site that the old stadium is on now will become a park, not a parking lot, although there are plans to renovate the existing garages, and perhaps bulid some new ones.
The closer to the stadium you get, the more expensive parking gets. I saw lots as expensive as $45.00
It appears mass transit will be the way to get to the new stadium as Metro North has put a station by the stadium.
Once inside the stadium, you know where you are. The "Great" Hall is a massive meeting place where fans can meet up with one another.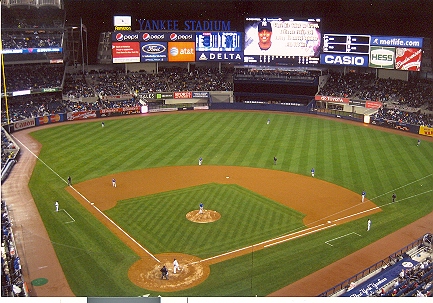 The Hall has many pictures of Yankee greats, starting with Ruth and going al the way to Jeter. A team store is also located in the Hall, next to the Hard Rock Cafe. The one thing everybody seems to love is the fact that the bleachers are no longer isolated from the rest of the park. Now, if you are sitting in the bleachers you are free to roam around the park. Pictures of all the World Series teams hang above the concession areas on the main level. The Museum has the Wall of Balls consisting of balls signed by every player who ever played for the Yankees. To see an actual ball sign by Babe Ruth is mind boggling. The view from the seats is almost identical to that of the old stadium. They also have the world's largest HD video board that sits in dead center field above Monument Park. There are some obstructed seats, mostly in the bleachers due to the resturant that jutts out but other then those there doesn't seem to be a bad seat.

Stadium Rating - A