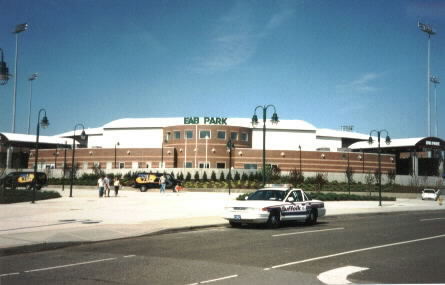 Citibank Park

Opened--2000

May 14, 2000--Long Island Ducks 9, Aberdeen Arsenal 4

Atlantic League--Independent

Former Major Leaguer--Chuck Carr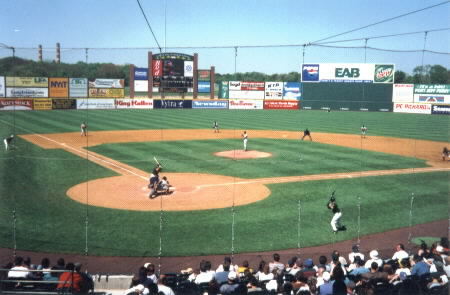 Hey, I think I've been here before, wait, that was Trenton, wait, that was Somerset. EAB Park is the brand new stadium of the Long Island Ducks, one of two new expansion teams in the Atlantic League. The league now has a total 8 clubs. The Park looks and feels like most of all the other Minor League Parks that are being built today. The only difference from Trenton is EAB does not have any aluminum benches, all the seats that make up the seating bowl are the green folding plastic type.
They have a picnic area down the LF line that is SRO, but most people sit on the picnic tables and watch the game. The day I was there the Ducks set a record for attendance at the new yard, 6116. Will the people continue to come out ? Or will the novalty wear off ? The one thing I was surprised at was the free parking. I don't know if this trend will continue, but if it does these stadiums will become the cookie cutters of the 90's and beyond.
Stadium Rating : B-
2002 Update - EAB Park was renamed Citibank Park when Citibank bought EAB Bank.