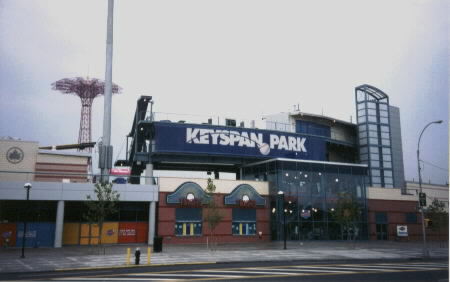 Keyspan Park--Brooklyn, New York

Opened--2001

August 27, 2001--Pittsfield Astros 9, Brooklyn Cyclones 2

Short Season Class A--New York Penn League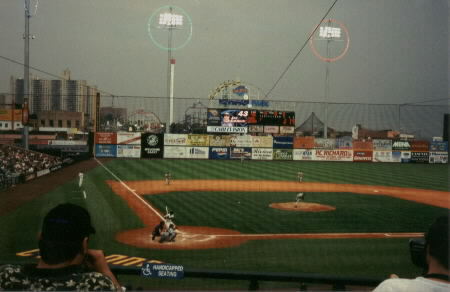 After more than 40 years, baseball has returned to Brooklyn. Keyspan Park is the brand new home of the Brooklyn Cyclones, the New York Mets class A team in the NY-Penn League. The park is located on Surf Avenue in the Coney Island section of Brooklyn. Coney Island, of course, is home to the Astroland Amusement Park and the world famous rollercoaster the "Cyclone", which the team is named after. Once inside the park it very much resembles an Amusement Park. Red, green and yellow neon lights line the concourse, which is very spacious and only partly covered. The parts that aren't covered have a blue and yellow canopy. Luxury boxes cover the main section behind home plate. Unlike other parks where they run the length of the concourse, at Keyspan they are double decked. This looks a little strange but fits the park nicely. The concourse is also home to five concession stands scattered about the length of it. For $4.00 you can have a Nathan's Famous Hot Dog. You can have one for half the price if you go to Nathan's before the game. Even the light towers have the Astroland theme with the bright neon that circles them.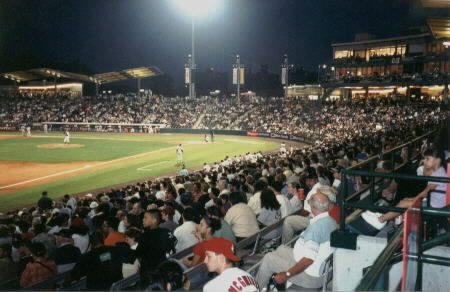 The park holds 7000, and they have sold out almost every game this season. Just before the season started, bleachers were built in rightfield to accomodate the large crowds. For an urban setting the park has great views all around. From almost anywhere in the park you can see the rides at Astroland. This looks very nice at night. Down the 1st base side is the old parachute ride looming over the park. And how could we forget the boardwalk, which is part of the park where the concrete concourse ends down the RF line. There is also a back entrance to the park for the people who are coming from the beach. Did I mention the beach? The Atlantic Ocean is just beyond the rightfield bleachers. It's probably a bit much for such a short season and lower class of ball, but the people seem to love it. The NY-Penn season runs right with the beach season so how could you go wrong. Parking wasn't a problem, $4.00, and lots of it. Keyspan is just a really cool place to see a game, mostly because of the setting. One thing I've never seen before was the red letters and numbers on the scoreboard. That took some getting used to.

Stadium Rating : A+