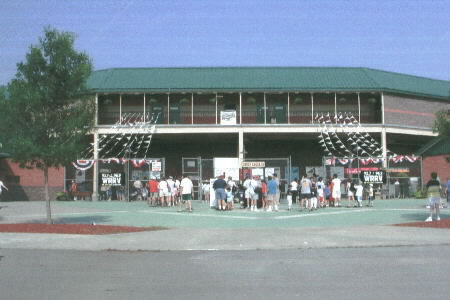 Dutchess Stadium--Fishkill, New York

Opened--1994

June 30, 2002--Jamestown Jammers 10, Hudson Valley Renegades 7

Short Season Class A--New York Penn League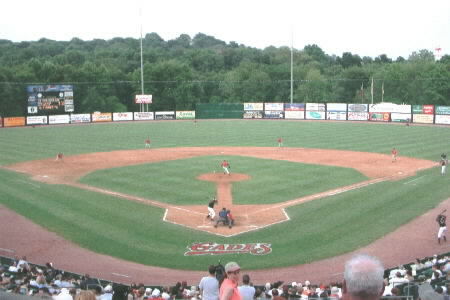 Dutchess Stadium is the home of the Hudson Valley Renegades of the New York Penn League. The park opened in the summer of 1994, a little before the big minor league ballpark boom. It's located right off of I-84 in Fishkill, NY. The park has a very family, fan friendly atmosphere. The Renegades have not one, not two but three mascots to keep the kids entertained. The first mascot was "Rookie" (a raccoon), he then married his girlfriend "Rene" ( 1st four letters on Renegades ). They later had a child, "Rascal". I know this because of the coloring book they were selling had the "real" story of how the mascots meet. You enter the park at ground level, right into the concourse. From there you go either left or right to get to your seats. Unlike the newer parks where the concourse is located a top the seating bowl where you can still view the action, here it's located behind the grandstand. The seating bowl is set up "box" seats, reserved seats and G.A. seating. The box seats fold down while the reserve seating is the bucket type. Down each line and the bleacher type seats, these are metal benches with backs. Rather then going with the all to common forest green seats, the 'Gades incorporated the teams colors into the seating. The box are green and the reserved are maroon.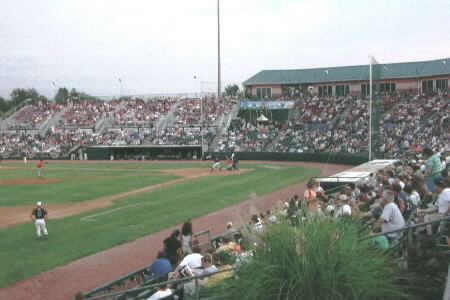 Down the left field line is a picnic area and a children's play area, complete with a jungle gym. One of my complaints about the park is it gets very loud. It is one of the loudest parks I've ever been to. The P.A. announcer encourages people to stomp there feet on the aluminum portion of the bleachers so one can imagine how loud it gets. They also seem to have and over abundance of between innings antics. I thought three dollars for parking was a bit much, and they were out of programs. On the other hand, the food was reasonably priced. The foot long hot dog was actually a foot long. Dutchess Stadium is a very basic ballpark with little things that make it interesting, like the nicely landscaped area down the 3rd base side, again in team colors. It seems to me they think they need all the other things to keep the fans entertained, while to me the game should be enough.

Stadium Rating : B-