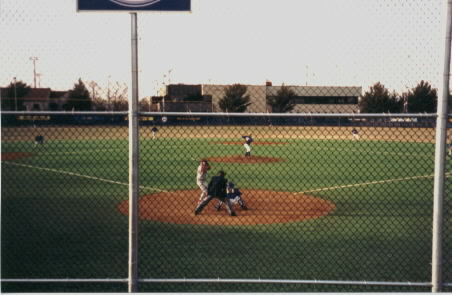 University Field--Hofstra University, Hempstead, New York

Home of the Hofstra Pride

March 19, 2003--Hofstra 11, Sacred Heart University 1

Division I - Cololial Athletic Association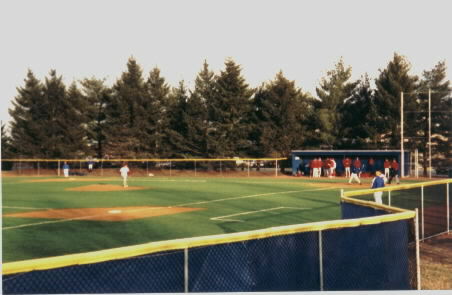 University Field is tucked away on the North Campus of Hofstra. The field is half turf (on the infield) and half natural grass (on the outfield). Just beyond the leftfield wall which is 331 ft is a scoreboard. The board keeps track of the count and outs and the inning, and ofcourse the score. It is not a line scoreboard that keeps track of runs by inning though. It is 380 ft to dead center and 340 ft to rightfield. Just off the 1st base side are the Bullpens. Due to the heavy amount of trees by 1st base there is no seating. All of the seating is behind homeplate and over by 3rd base, and there really isn't a lot of seating. For a school with a beautiful new Basketball arena right across the way and a big football stadium across the street, it looks like baseball takes a backseat.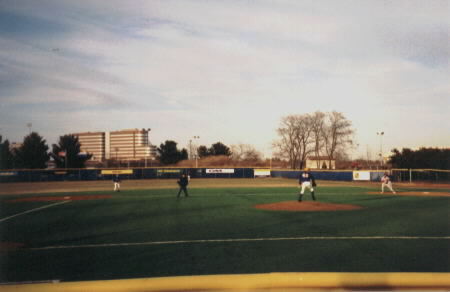 They have a p.a. announcer to annouce who is coming up, but there was nowhere to get any sort of refreshments. I guess one would have to go to the arena to use the facilities because I could not fine any on site. There are no lights, so all games are played during the day. There is, however plenty of parking on site. Right across the street, in the other direction is Mitchel Field, The home park of Nassau Community College. University Field is a nice enough park, I just wish Hofstra would do a little more to make it have a Division I feel to it.