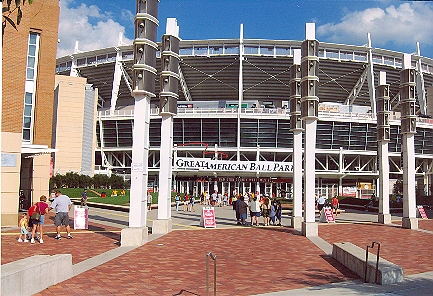 Great American BallPark, Cincinnati, Ohio
Current Home of the Cincinnati Reds
Last World Championship - 1990 (4-0 vs. Oakland A's)
Last Playoff Appearance - 1995 (NL Cent Champs - L NLCS)
Opened - 2003
August 10, 2007
San Diego Padres 12, Cincinnati Reds 7 ( 11 inn )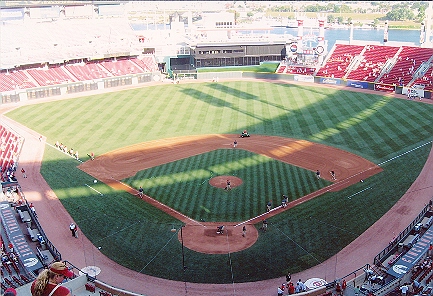 As like in Pittsburgh, The Reds went from having one of the worst stadiums in baseball to having one of the nicest in baseball. Standing just beyond where old Riverfront stadium once stood, is now the Great American Ballpark. Outside the stadium, along the 3rd base side are banners hanging from lightposts, each with a special date in Reds history. The Reds are the oldest franchise in baseball and have quite a history, so much so they have a seperate building that houses the Reds Hall of Fame. The main enterance is the "Crosley Terrace", named for the former home of the Reds. This was one of the more "fan Friendly" parks I've ever been to. There was more things for the kids then any other park I could think of, speed pitch, batting cage, 90' dash. Right next to the Hall of Fame is the Rose Garden, it is the spot where Pete's record breaking hit landed in the old park.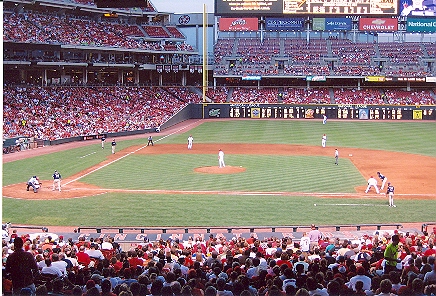 Once inside you are treated to a beautiful view of the Ohio River and the state of Kentucky. It's almost the same view as in Pittsburgh's PNC Park. The only diffence is in the GABP, the skyline is behind you. You are able to walk around the whole park, and pretty much not miss a thing. Also, like in Pittsburgh the Reds display their retired numbers behind home plate just below the pressbox.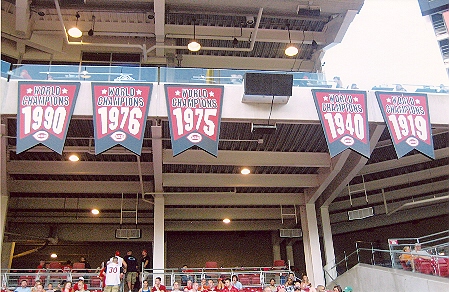 The Reds 5 World Championship Banners are displayed in the leftfield corner. Smokestacks shoot fireworks for every Reds homerun and the private party area looks like an old Riverboat, keeping with the theme.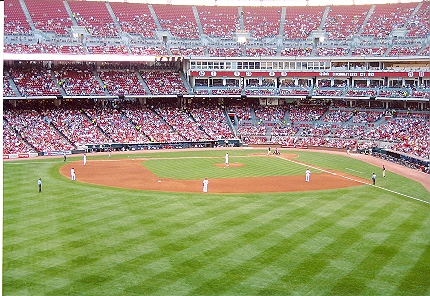 There are concessions a plenty, and resonably priced. I had the Red Hot Smokey, which wasn't bad. I really enjoyed my helmet sundae. GABP was the first place I'd been to where I had a choice of toppings. How great is that ! A hemet sundae, with syrup, crushed m&m's and a cherry, for under 5.00. Friendy staff, great views, resonable prices, Great American Ballpark is up there as one of my new favorites. A huge step up from Riverfront, and not a carbon copy of the new "retro" parks. GABP is unique in looks with it's "cut out" in the upper deck and lights, looking much like the light at old Crosley Field. A little old, a little new, great place to see a game.

Stadium Rating - A