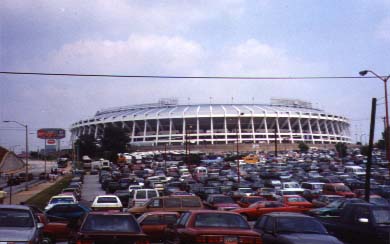 Atlanta Fulton County Stadium--Atlanta, Georgia

Former home of the Atlanta Braves
Last World Championship - 1995 (4-2 vs. Cleveland Indians)
Last Playoff appearance - 2005 ( NL East Champs - L NLDS )

Opened--1966 Closed--1996

June 13, 1993-- Atlanta Braves 9, Cincinnati Reds 2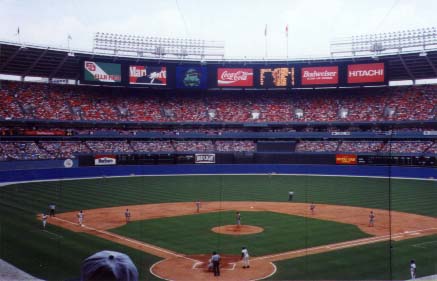 Fulton County Stadium, AKA The Launching Pad.
Basically a cookie-cutter, at least it had grass, not like the other multipurpose stadiums of that time.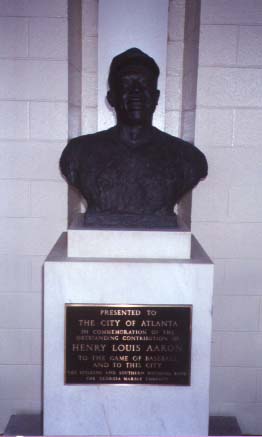 A bust of all time homerun king Henry Aaron.
Other then the "715" marker in left-center
I was surprised that was pretty much it.
Milwaukee had more of a display honoring "Hammerin' Hank."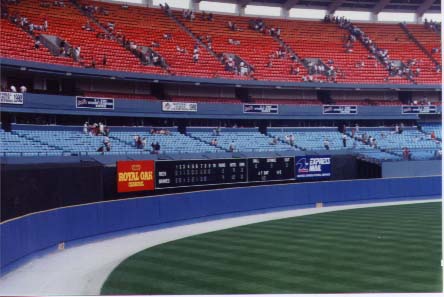 Nicely displayed around the outfield are the retired numbers
and the Division and League Championship banners.
The fans pretty much sat on their hands until the tom-a-hawk chop kicked in, which we did not take part in.
The stadium was mostly what I expected, nothing more, nothing less, but for some reason they didn't sell yearbooks.

Stadium Rating : C+