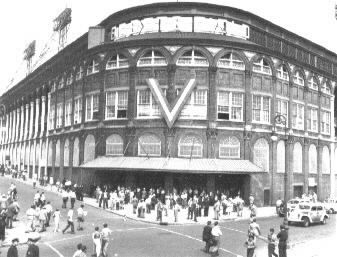 Ebbets Field--Brooklyn, New York

Former Home of the Brooklyn Dodgers
Last World Championship in Brooklyn - 1955 (4-3 vs. N.Y. Yankees)
Last Playoff appearance in Brooklyn - 1956 (NL Champs - L World Series)

Opened--1913 Closed--1957

February 21, 2000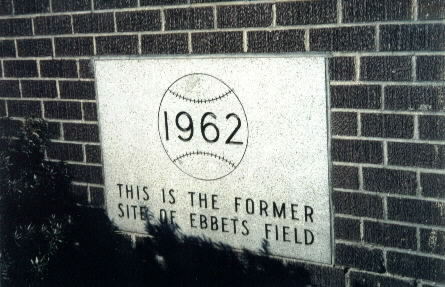 Ebbets Field was the home of the Brooklyn Dodgers from 1913 to 1957. After the 1957 season, owner Walter O'Malley moved the Dodgers to L.A. By 1962 Ebbets Field was gone as well. Some of the Light Towers were moved to Downing Stadium on Randall's Island in The Bronx.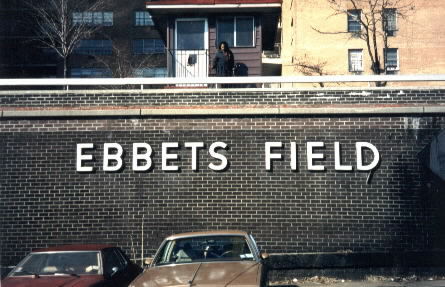 This is the parking lot of the Apartment Complex. Ebbets Field was demolished in 1960, and the apartments rose up two years later. The same wrecking ball that knocked down Ebbets Field would be used to demolish the Polo Grounds several years later.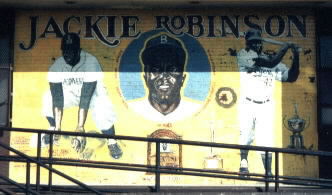 This painting is on the wall of the school next to the apartments. Jackie Robinson, won the first Rookie of the Year Award, and became the first African American to play in the Major Leagues in 1947. He was also a member of the 1955 World Champion Dodgers, the only World Series the team would win while in Brooklyn.
For more on Ebbets Field check out Ebbets Field.com