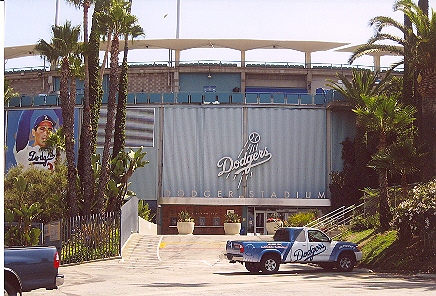 Dodger Stadium--Los Angeles, California

Current Home of the Los Angeles Dodgers
Last World Championship - 1988 (4-1 vs. Oakland A's)
Last Playoff appearance - 2009 (NL West Champs - L NLCS)

Opened--1962

May 14, 1996 -- LA Dodgers 2, Montreal Expos 1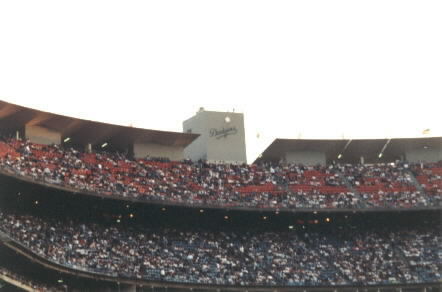 Dodger Stadium, A.K.A Chavez Ravine was one of the cleanest stadiums I have ever been to. The complete layout of the park is breath taking. From the Palm trees that line the stairs to the top of the park, which is also the main entrance. On the other side of that thing that says Dodgers are the ticket booths and turnstyles. If you turn around you can see the city of Los Angeles below. The park is laid out the way a baseball park should be. Bleachers in the outfield, Bullpens that aren't in play. Dodger Stadium is the perfect Baseball stadium.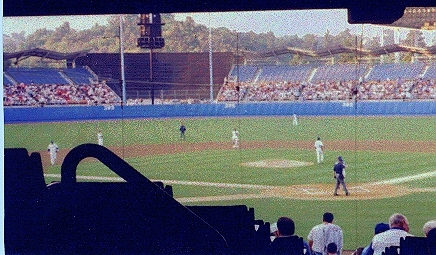 Just beyond the Batters Eye in centerfield is one of the nicest backdrops in Major League Baseball. Dodger Stadium is almost 40 years old and still looks as nice as the day it opened. It has a huge multi-colored 4 deck seating bowl which can be a little hard on the eyes, so it's a good thing the backdrop is so nice.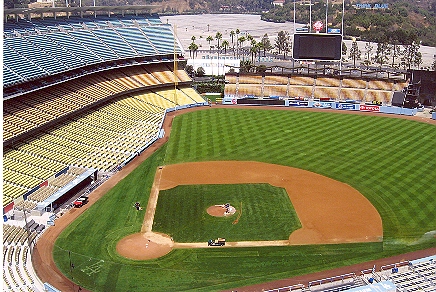 What more can you say ? DodgerDogs. Dodger Stadiums concessions are probably the best in the league. The lines moved fast, and the quality of the food is good. They have food you wouldn't find at other ballparks, but hey, that's Hollywood. Also if you stay for the whole game, you have no trouble leaving the lot. The regulars leave by the 7th inning.

Stadium Rating : A