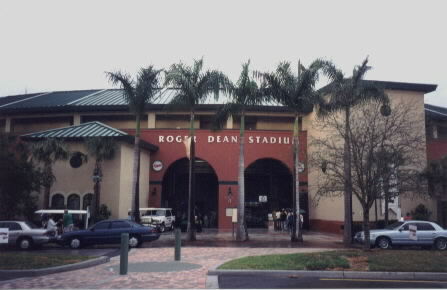 Roger Dean Stadium--Jupiter, Florida

Opened--1998

Spring home of the Florida Marlins & St. Louis Cardinals
Former home of the Montreal Expos

March 17, 2001--New York Mets 6 (ss), Montreal Expos 4

Grapefruit League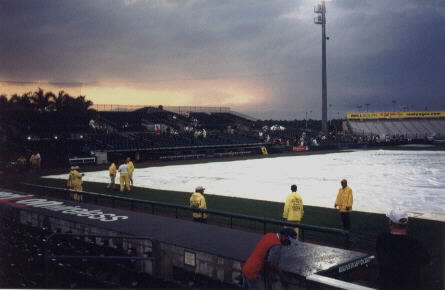 Roger Dean Stadium was the second stop of the day. The Mets had a split squad game, in the day at St. Lucie and the night in Jupiter. It hadn't rained in about 4 months in Jupiter. So of course as soon as we got there it started pouring. The start of the game was delayed about 40 minutes. And there really isn't much of a roof so most of the seats were very wet.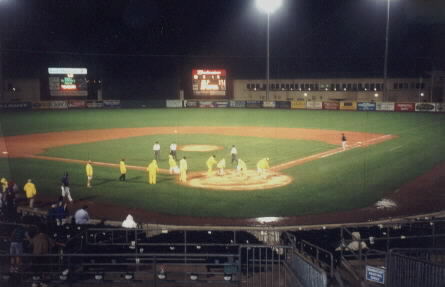 The park is pretty much the standard mid to late 90's style. One thing that I did notice that was different from most of the other parks was the main concourse wasn't located at the top of the seating bowl. I can't comment on the food because I didn't have any. To tell the truth, I never saw a concession stand. They do have that walk area between the 100s and 200s. Just beyond the fences are condos. The one in Leftfield has an Expos logo and the one in Rightfield has a Cardinals logo on it. The park is very easy to find as it is right off I-95. I found the prices a bit high for spring training. $5.00 to park and the tickets were $16.00, and those weren't even box seats.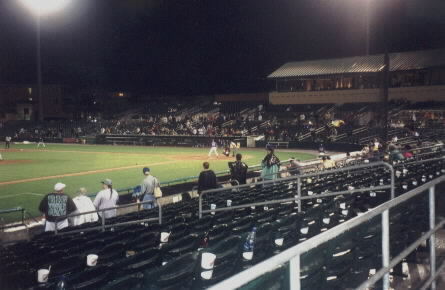 By the end of the second rain delay there had to be about 200 people left in the stands. We weren't even close to sitting where our actual seats were located. We moved down to the first row just to the left of the Mets dugout. The dugouts had no sides to them so we could look right into the dugout. My friend was trying to get Rich Rodriguez's special St. Patricks day Mets hat with the green NY and brim. Try as he might, no hat. A very nice usher named Elmer did, somehow, get Jay Payton's batting gloves and gave them to my sister. The Park is average at best, but when you are 1 of about 200 fans and soaking wet and still having a good time you can't beat atmosphere like that.

Stadium Rating : B-