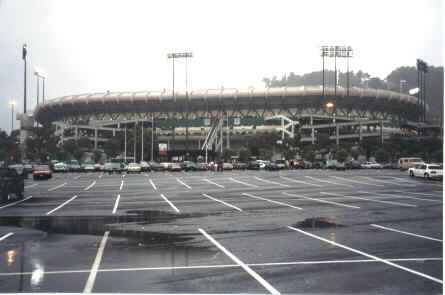 Candlestick Park--San Francisco, California

Former Home of the San Francisco Giants
Last World Championship - 1954 (4-0 vs. Cleveland Indians)
Last Playoff appearance - 2003 (NL West Champs - L NLDS)

Opened--1960 Closed--1999

May 18, 1996 -- NY Mets 14, SF Giants 5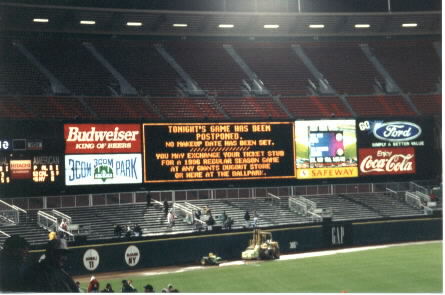 A rainout at "The Stick". While driving home from the Park, the radio said it was the first rainout in I believe they said 18 years. Nothing like flying 3000 miles to watch your favorite team on the road and have the game cancelled. When the Giants moved west in '58 they played their first two seasons in Seals Stadium.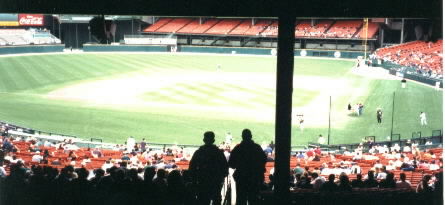 Back to the park the next day. Luckily we got this one in. Candlestick or 3Com as it was called towards the end has been through many changes since it opened in 1960. It was first an open stadium, and had great views of the bay and Candlestick point (for which the park was named). The wind coming off the bay made flyballs a nightmare and dust storms the norm. For that reason the park had to be enclosed, so there went the view. The playing surface had changed a lot as well. It was grass when it opened, turf with a dirt infield for a year, turf with sliding pits for 8 seasons, and then back to grass.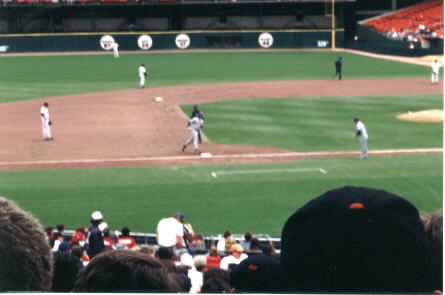 Of course everybody knows of the earthquake during the 1989 World Series the measured 7.1 on the Richter Scale. The "Stick" came away from that with just minor damage. Candlestick was OK at best. Nothing great. Not the best sightlines due to the support beams. We did have a good view of Todd Hundley rounding 3rd for the second time. Hundley was 2-4 with 2 HR and 7 RBI.

Stadium Rating : C+