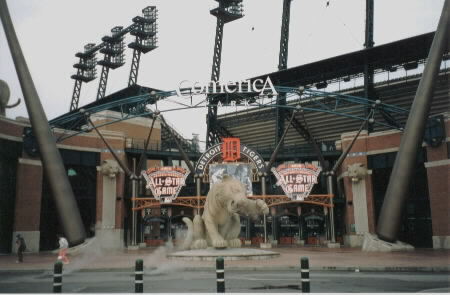 Comerica Park--Detroit, Michigan

Current Home of the Detroit Tigers
Last World Championship - 1984 (4-1 vs. SD Padres)
Last Playoff appearence - 2012 (AL Central Champs - L World Series)

Opened--2000

August 14, 2004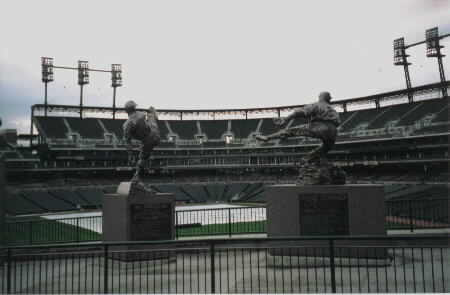 After the closing of Tiger Stadium after the 1999 season the Tigers moved into there new home. Many people were sad to see the old park go. Comerica is located not to far from Tiger Stadium. Of course like all the new "retro" parks, it has a downtown location. I didn't get in Comerica but I was able to get some shots of the park from the outside. When walking along the park by the outfield you can see the statues that line the park just above the outfield wall.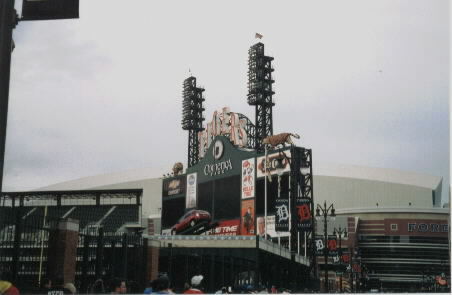 The scoreboard, like most of the entrances of the park is adorned with tigers. Everywhere you look you see tigers. All along the side of the park are Tiger heads with baseballs in their mouths. The balls light up when it gets dark. Right across the street is Ford Field, the new home of the Lions. Across the street the other way is the Hockeytown Cafe. There were several lots, but I believe they were for vip's and season ticket holders. There are several parking garages. I'm not sure what they charge for Tiger games, but it was $25.00 for the Lions game.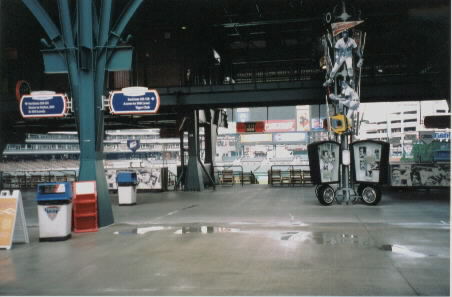 The concourse seems to be rather wide, not like in the old park. When you enter from the main gates at home plate you are greeted by a statue of long time Tiger broadcaster Ernie Harwell. Lots of statues around this place. It looks like a nice place to see a game. I can't comment on sightlines or concessions because I wasn't actualy in the park. It doesn't have the history of Tiger Stadium, but in terms of having what new parks need that the old ones don't have, Comerica gets the job done.

Stadium Rating--No rating, did not see a game, but looks like a B+