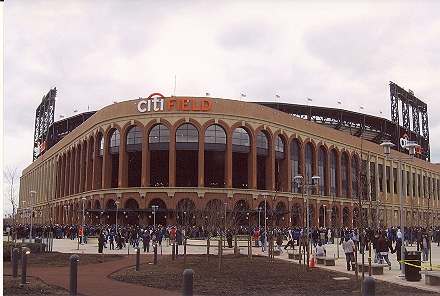 Citi Field--Flushing, New York
Opened - 2009
Current Home of New York Mets
Last World Championship - 1986 (4-3 vs. Boston Red Sox)
Last Playoff Appearance - 2016 (NL Wild Card - L Wild Card game)
April 4, 2009--Boston Red Sox 9, New York Mets 3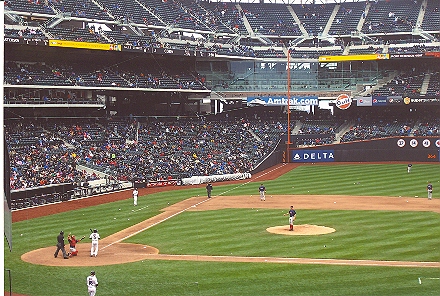 Citi Field is the new home of the New York Mets.
It was the Wilpons vision to build a state of the art facility to replace the out dated Shea Stadium
Citi Field was built to resemble Ebbets Field complete with the rotunda entrance, named for Jackie Robinson.
Even one of the suite levels is to be called the Ebbets suites, Wow...when did Wilpon buy the Dodgers !
That's the first thing you notice when you enter Citi Field, there seems to be no Met stuff anywhere, one would never know it's the home of the Mets, unless you enter from the BullPen entrance. There you will see the old Home Run Apple.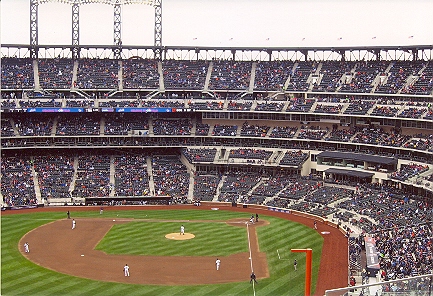 Once inside you can see the seating capacity is smaller then Shea, almost 15,000 seats smaller.
An entire level was removed. While Shea had four levels, Citi Field only has three.
The upper deck is no longer called the Upper deck, it is now the Promenade level, Maybe I'll run into Capt. Stubbing.
All seats are closer to the field and angled toward home plate. There is standing room section in the outfield. Also like most parks built in the last 20 years, one can walk around the whole park and not miss a pitch.
There is food a plenty and much more of a variety then Shea. The Shake Shack in Center field has the Skyline from the old Scoreboard atop of it. Also out in center field is the dunk tank, wiffleball field and one of many team stores.
Another plus is the field level concourse is open to everybody, not closed off, like Shea.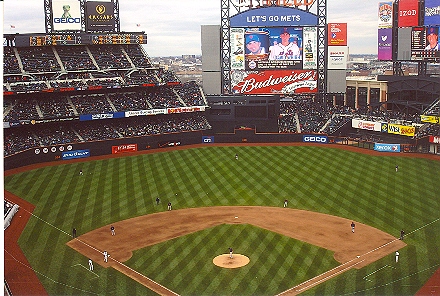 For what the Wilpon's paid, you would like a Mets Hall of Fame,
maybe a statue of Tom Seaver or maybe Gil Hodges or somebody.
There are other projects on the table as well,
like stores & restaurants that will be where the Auto body & Salvage yards are now.
But that's another story for another time.
I'm sure it will be filled to capacity for many years until the novelty wears off.
Part of me is looking forward to the new park, the other part of me hates it.
Shea is all I've known, to me it is the Mets.
Maybe I just can't let go.

Staduim Rating - B+