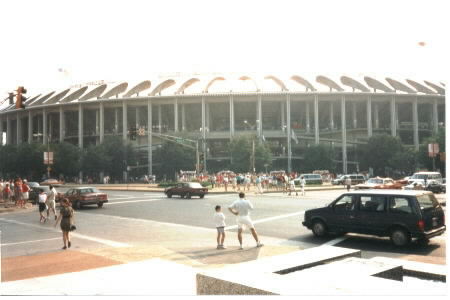 Busch Stadium--St. Louis, Missouri

Former Home of the St. Louis Cardinals
Last World Championship - 2011 (4-3 vs. Texas Rangers)
Last Playoff Appearance - 2011 (NL Wild Card - World Series Champions)

Opened--1966, Closed--2005

July 20, 1991-- St.Louis Cardinals 2, Atlanta Braves 1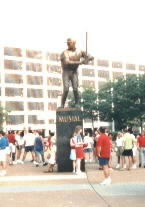 A statue of Stan "The Man" Musial. This stands outside the stadium on the concourse.
It was unveiled in 1968.
Busch Stadium opened in 1966, when the multi-purpose cookie cutters were all the rage.
Unlike the others though, Busch was built in the city, not on a giant piece of land
purchased on the cheap, miles from the city.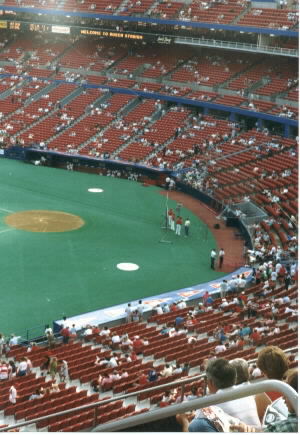 The Cardinals shared the building with the St.Louis Football Cardinals,
until the mid 80's when the Footballers moved to Arizona.
They shared it again with the Rams in 1995 for one season.
In my opinon, the best and most recognizalbe part of Busch were the arches atop
the stadium, reflecting the most recognizable monument in the city.
They were to Busch what the facade is to Yankee Stadium.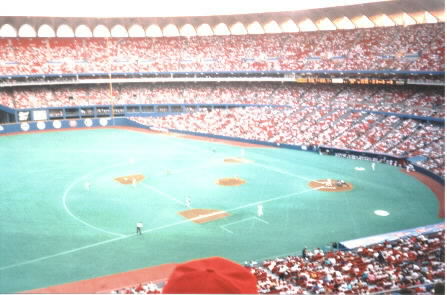 Obviously, Busch looks nothing like this anymore. The faded turf is gone (thankfully) and
has been replaced with real grass, the red seats still exist.
The dimensions have changed to make Busch a more hitter-friendly park.
When I was there the Cardinals were still built on speed.
It's much more a baseball only park now, but you can still see the cookie cutter
in it. My Busch experience was a pleasant one.
The fans are very passionate and knowledgable. St.Louis is truly a Baseball town.

Stadium Rating : C+ (Higher if I saw a game the way the park looks now)