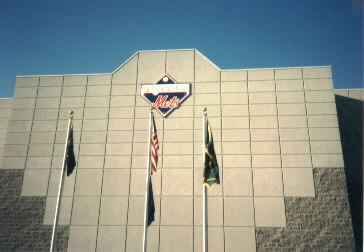 Binghamton Municipal Stadium--Binghamton, New York

Opened--1992

July 23, 1993--Binghamton Mets 7, Bowie Baysox 2

Eastern League--AA

Future Major Leaguers--Butch Huskey, Quilvio Veras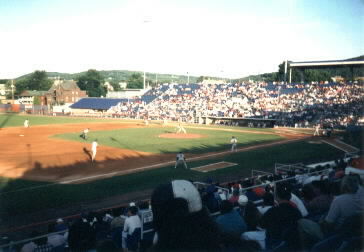 Binghamton Municipal Stadium is the home of the New York Mets AA farm team. It's a nice little stadium, nothing too out of the ordinary. It has plastic folding seats that makeup the main seating bowl. The concession stands are located out behind the seating area so you can't watch the game while you wait in line. Municipal Stadium was built just before all the minor league parks started to look the same. In a way that is good, in another way, that is bad. The outside of the stadium is far less attractive than the inside. They have all the minor league between inning promotions, dizzy bat race, etc... I found the parking to be a little tight if you happen to get there a little late. If you can avoid it, don't park on the street right outside the stadium because foul balls have a tendency to fly right over the roof and land on the street.
Stadium Rating : B