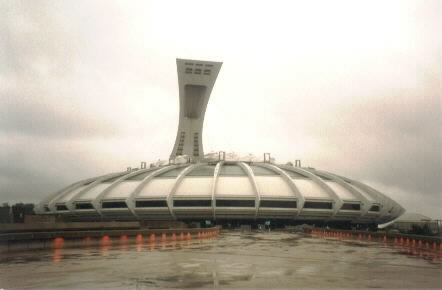 Olympic Stadium--Montreal, Quebec - Canada

Former home of the Montreal Expos
Last World Championship - none
Last Playoff appearence - 1981 (1st half NL East Champs - L NLCS)

Opened--1976, Closed for Baseball--2005

July 31, 1992 -- Philadelphia Phillies 2, Montreal Expos 0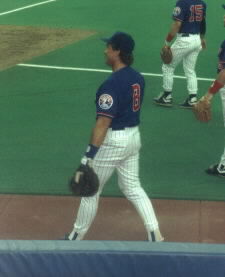 " The Kid " Gary Carter returned home to finish his career where it all began back in 1975. We would make the trip back up to Montreal the next year to watch Carter have his #8 retired.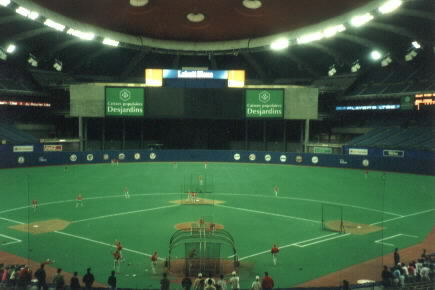 The Big O, or known more as The Big Oh No. This place was a mess. Can you say, No Atmosphere ? The night we were there it was raining outside, so we figured we would be safe and dry indoors. Nope, the retractable "roof" was leaking. The city of Montreal put a ton of money into this place after the 1976 Summer Games to make it a playable Baseball stadium. They would have been better off putting that money into old Parc Jarry, and refurbishing that.
The park pretty much has nothing going for it. Between the turf, and the "dome", and the product on the field, one has to ask, How much longer will the Expos remain in Montreal ? Let's all hope the talk of a new stadium comes true. If any team needs a new park, it's the Expos.

Stadium Rating : F

2005 update : Sadly, Baseball will longer be played in Montreal. Major League Baseball
has re-located the Expos to Washington, D.C., they are now known as the Nationals.