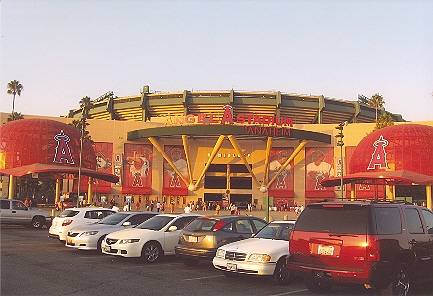 Angel Stadium of Anaheim--Anaheim, California

Current Home of the Los Angeles Angels of Anaheim

Last World Championship - 2002 (4-3 vs. SF Giants)
Last Playoff appearence - 2009 (AL West Champs - L ALCS)

Opened--1966

August 30, 2008--Los Angeles Angels of Anaheim 4, Texas Rangers 3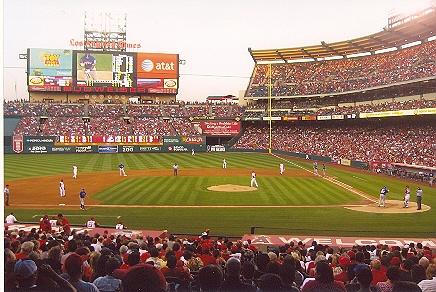 The Big A is home to the Los Angeles Angels of Anaheim since it opened in 1966. The park and name have gone through several changes since then. Originaly a baseball only stadium when it opened it was called Anaheim Stadium, and built to resemble Yankee Stadium. Then in 1980, the Los Angeles Rams moved from the LA Coliseum to the Big A. Many renovations had to be made to make the stadium multi-purpose.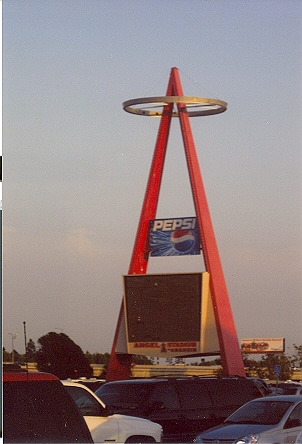 One of them being the moving of the big "A" from the scoreboard, into the parking lot, where it stands today. The stadium was enclosed, adding about 23,000 more seats to accomodate an NFL sized crowd. After the Rams left for St. Louis in 1994, the stadium changed again. Renovations started in 1997 to make the facility once again baseball only. In 1998, the naming rights were sold to a local utility company and the stadium was renamed Edison International Field, sometimes known as The Ed or Big Ed. Finally, in 2003 the stadium was renamed once again to it's name today.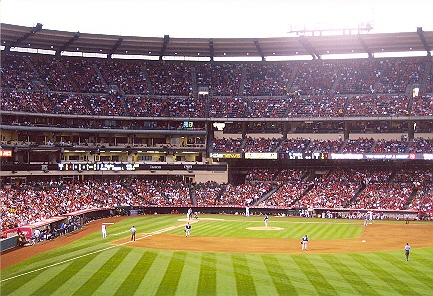 The main entrance of the park is adorned with two giant Angels caps, and giant baseball bats. There is a regulation sized brick infield lined out, with an actual mound. The rubber, bases & Home plate are lit as you exit after a night game. Once inside, it's a sea of red, as Angel fans sport their red attire. On the main concourse is a display honoring the 2002 World Champs, with the World Series trophy and assorted memorabilia. The stadium consists of three levels and two sets of bleachers, one in left field & one in right. To the left of the batter's eye is an area with Rocks, water falls and some trees, it looks a little out of place.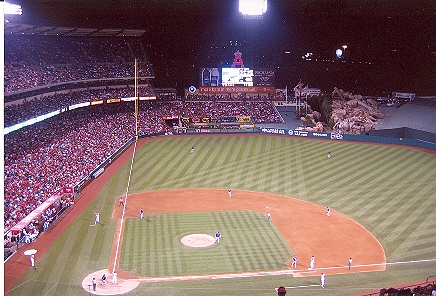 I really didn't find anything wrong with Angel Stadium. I liked that they had two scoreboards, One in left field and one in right, they both had a large video screen and both kept the line score. They are very proud of their history, displaying their Division championships on the fence in RC field. The retired numbers are on display under the scoreboard in right field. The Angels are probably the only team that retired the numbers of two players traded for each other. Jim Fregosi & Nolan Ryan. Fregois would later manage Ryan. A great atmosphere, good food, cheap parking, only $8.00 ! and the kicker, the yearbook was only $3.00

Stadium Rating - A