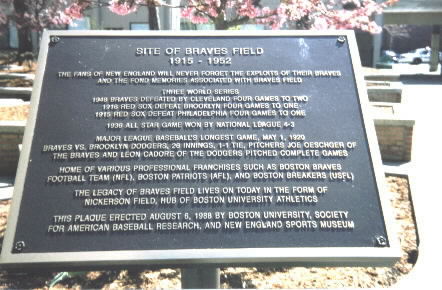 Braves Field--Boston, Massachusetts

Opened--1915 Closed--1952

April 27, 2002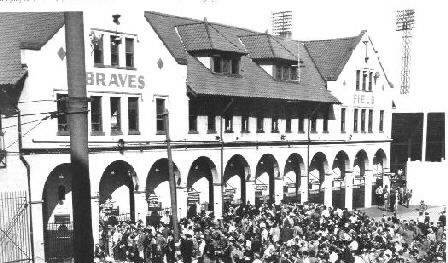 Braves Field was the home of the Boston Braves from 1915 to 1952, after that the team relocated to the city of Milwaukee, and kept the name Braves, and continued to keep the name when they relocated again to Atlanta in the late '60s. The Boston Red Sox played their World Series games in 1915 & 1916 because Braves Field had a bigger capacity then Fenway Park.
The entrance to Braves Field then...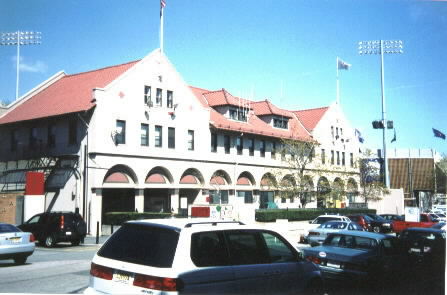 ...and now, The Boston University Campus Police Department building. You can still see part of the original rightfield stands to the right of the building. What's left of Braves Field is now part of Nickerson Field. Being B.U. doesn't have a football team anymore it is now used by the Boston Breakers of the Woman's Professional Soccer League.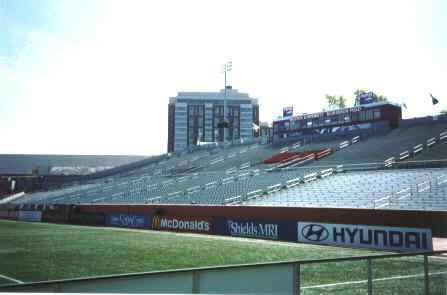 Many a great ballplayer played on this field, from Babe Ruth to Warren Spahn. At one time Boston was home to two great old ballparks, It's nice to see the B.U. has preserved the legacy of such a great park and honored it with a plaque erected in 1988 and leaving some of the park intact, Like the top portion of the stands seen in this shot. To the left of these bleachers was the famous "Jury Box" bleachers that sat out in rightfield. If you're ever in Boston I suggest you check it out. You won't be disappointed.