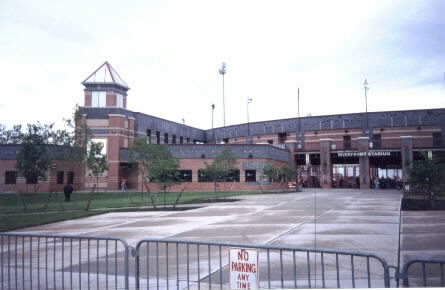 Riverfront Stadium

Opened--1999

August 13, 2000--Long Island Ducks 4, Newark Bears 2 (11 inn)

Atlantic League--Independent

Former Major Leaguer--Ozzie Canseco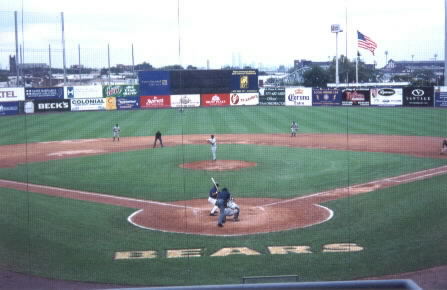 Riverfront Stadium is the home of the Newark Bears of the Atlantic League. Newark was one of the last teams in the league to have a stadium built. Riverfront, or "The Den" as it's known by the locals looks like many of the mid to late 90's stadiums. The only difference with this one is the concourse is completely open. You can walk from foul pole to foul pole and not miss any of the game. In other stadiums cut from the same mold the Press Box is built directly behind home plate on the field level causing an obstructed view. The Bears built their Press Box on the same level with the SkyBoxes. As for the SkyBoxes, they did a nice job in making them not so noticeable, in other stadiums they are large structures looking totally out of place.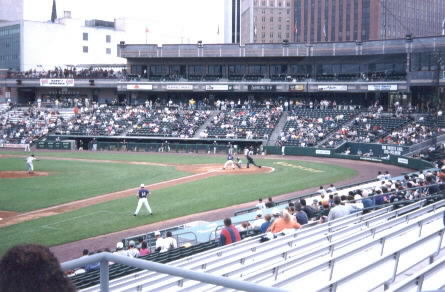 The Den is a little smaller than most parks due to the fact that they had to fit it into the city. It only has one level of seats, this eliminates that useless break in the seating for people to walk. They have alumimun bleachers down both lines that angle into the playing field. They also have one of the nicest backdrops. On a clear day (which mine was not) one can see the New York Skyline. I wasn't too fond of the conncessions. They were out of soft Ice Cream and there was some mold on the Hot Dog bun. I didn't know how they were laid out either so that cost me. Had I known the better selection was one stand down I wouldn't have gotten a Hot Dog. Riverfront is a nice place to see a game, but the concessions kind of put me off, that and I think $4.00 is a bit much to park.
Stadium Rating: B-