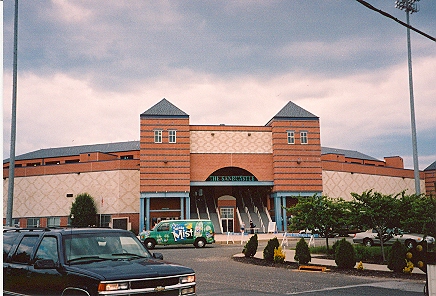 The Sandcastle - Atlantic City, New Jersey
Opened - 1998
June 18, 2005--Atlantic City Surf 2, Newark Bears 1
Atlantic League -- Independent
Former Major Leaguer - Tom Goodwin, Ozzie Timmons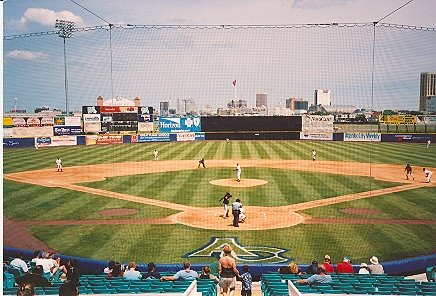 The Sandcastle is home to the Atlantic Leagues' Atlantic City Surf. This park was one of the first in the AL and set the model for the others that followed. It's pretty much the basic templete. "Box" seats fill the lower seating bowl, while The "reserved" seats fill the upper bowl. Above the upper bowl are the Sky boxes. The playing field itself is below street level. You have to climb up a lot of stairs to get to the main concourse. The concourse is open and spacious with several concession stands and a Team Store. The food is pretty much standard fare.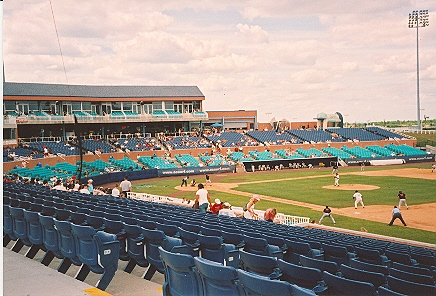 Down the rightfield line is a picnic area and a beach vollyball court. There was also a jumping house for the kids to enjoy. The view beyond the outfield wall is the A.C. Skyline, with it's casinos and hotels. The park is also located next to a small airport, which looked more like just a landing strip. From there we could see the MetLife blimp taking off. After this game, the kids were allowed to run the bases adding to the whole family fun experience of a Minor league game.

Stadium Rating : B

2006 Update : The naming rights to the park were sold and it is now called Bernie Robbins Stadium.

2007 Update : Starting in 2007 the Surf left the Atlantic League and now are part of the Can-Am League.

2009 Update : The Surf have gone "Belly Up" and now the 11 year old park sits vacant.