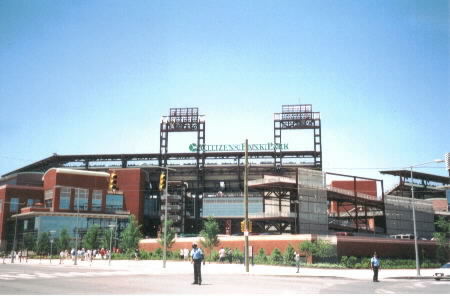 Citizens Bank Park--Philadelphia, Pennsylvania

Current home of the Philadelphia Phillies
Last World Championship - 2008 (4-1 vs. Tampa Bay Rays)
Last Playoff Appearance - 2011 (NL East Champs - L NLDS)

Opened--2004

June 20, 2004--Philadelphia Phillies 8, Kansas City Royals 2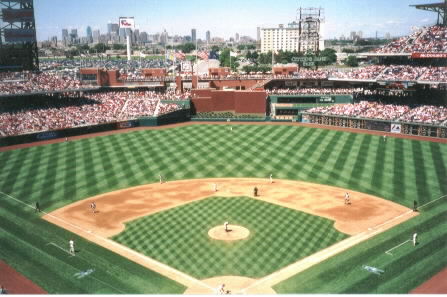 Citizens Bank Park is the brand new home of the Philadelphia Phillies. After 30 + years of playing in Veterans Stadium, anything would be an upgrade. The "retro" park was built on almost the same spot as The Vet. Unlike the other "retro" parks that were built downtown, CBP was built in a complex with other stadiums and arenas, plus the city skyline is a good 10 miles away. The park has entrances on the first base side, the third base side and the outfield. You are greeted at each gate by a statue of a phormer Phillie great. If you enter from the outfield you see that days starting lineup displayed via huge baseball cards. When entering from either base side you enter onto the field level. Out in right field is Greg Luzinski's "Bulls Bar-B-Que Pit".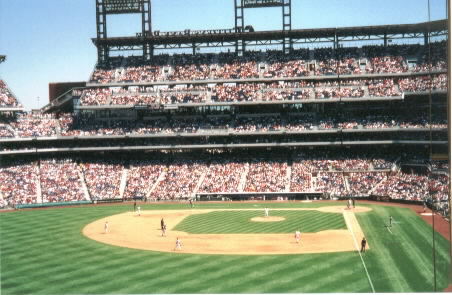 Out in the outfield along "Ashburn Alley" is the standing room section. Out there you will find the History of Philadelphia Baseball and the Phillies All Century team. The retired numbers are painted on the brick wall about 460 feet away from homeplate. The Championship banners are also out there. Around the back row of seats on the field level is also standing room. If you are looking for things for the kids to do there is a playground and a Build-a-Bear workshop in the park. I wasn't blown away by the food selection, pretty much the same as at the Vet.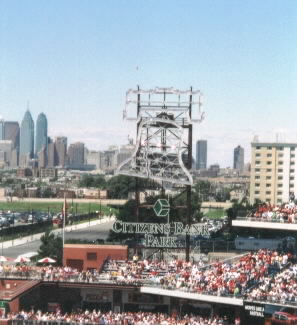 Ah, The Liberty Bell. This is out in the outfield and lights up and rings after every Phillie Home Run. I'm sure it looks better at night. The above shot is after Jimmy Rollins' 3 run inside-the-park Home Run. The scoreboard in left field is huge and shows the game on the video screen in real time. As like in PNC Park, the out-of-town scoreboard is located on the RF fence and keeps track of the score, inning and baserunners. Parking is a plentiful, if you arrive early. If not you're in for a bit of a walk. The atmosphere is OK, the park is beautiful, and the best thing of all is it's not The Vet.

Staduim Rating : A-