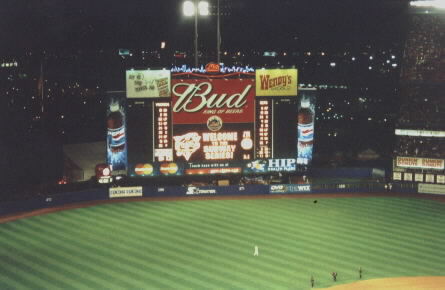 October 24, 2000--Shea Stadium

Game 3--New York Mets 4, New York Yankees 2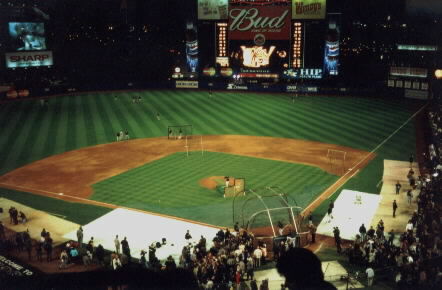 New York Yankees take batting practice before Game 3 of the 2000 World Series. The 1st Subway Series in 44 years. Notice the mob of media people on the field. For the full effect of the "Subway" Series I took the train into Shea that night. Getting there wasn't a problem. Getting home was. I left early enough to catch BP, so the train wasn't very crowded. What I didn't factor in was the entire stadium would be leaving at the same time to go home.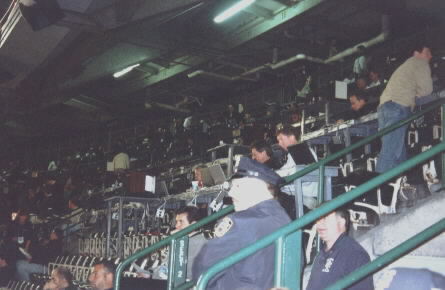 This is the Out-of-Town media section at Shea Stadium. They took up about 3 sections of the Mezzanine Level seats. Now I know why my regular seats during the season were bumped up to the Upper Deck.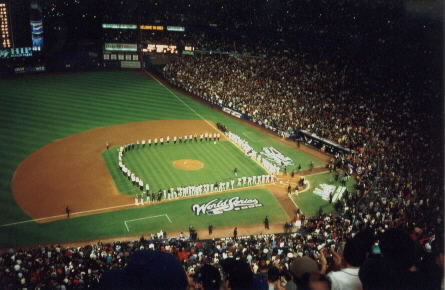 The introductions of the players. Behind them are the members of the USA Gold Medal winning Baseball and Softball teams. The first World Series game at Shea in 14 years really didn't feel like one. The weather was pleasent so it didn't feel like October. I think Inter-League play took away from this historic event. The fans had already seen the Mets and Yankees play each other six times during the regular season, so the excitement really wasn't there. If the World Series Logo hadn't been on the field this game felt like it could have been in the middle of June. It's too bad the Mets lost the series, but at least I got to see their only victory of the series.