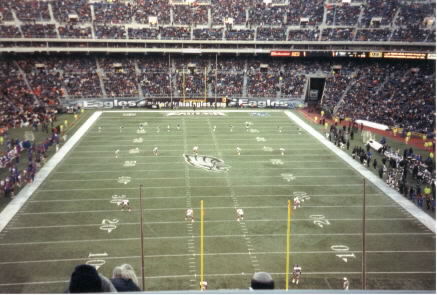 Veterans Stadium--Philadelphia, Pennsylvania

Opened--1971

December 30, 2001--Philadelphia Eagles 24, New York Giants 21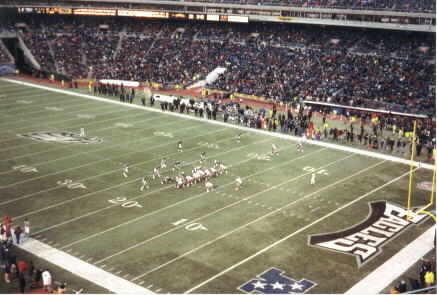 The Vet is much more suited for football. The sight lines are much better due to the "cookie cutter" configuration. These types of multi-purpose parks are loathed in the baseball world, but quite accepted in the football world. The field level stands are on rollers and roll out towards the outfield. The fences come down as do the bullpens. Just like that 1,2,3 now you can play football. The parking is a lot worse for Eagle games than Phillies games. I guess it's a lot easier to park a crowd of 15,000 than 65,000.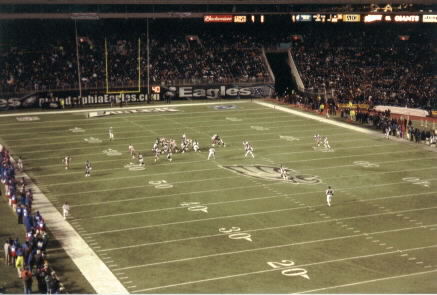 This was the first season that the Vet used the new "FieldTurf." It is supposed to have a more natural look and feel to it. The Vet is voted annually the worst playing surface in the NFL. More and more teams are ripping up the turf and switching to a natural playing surface. With new stadiums in Nashville, Pittsburgh, Cincinnati and older stadiums like Foxboro, Soldier Field, Arrowhead and the Meadowlands replacing their turf, it looks like it might be gone for good soon.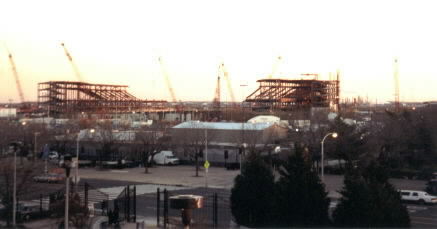 Across the parking lot of the complex, the Eagles new park is rising. It will be right next to the First Union Center and have natural grass. The park is slated to open in 2003. In 2004 the Phillies new park is scheduled to open on the other side of the complex marking the end of Veterans Stadium. The Vet is a much better place to see a football game. It seems silly to me to build a new football stadium for so much money when they only play 8 regular season games. The most they can play with pre and post season games is 12. I see no reason to replace the Vet for a stadium that will be used 12 times a year, but that's me.

Stadium Rating--B (for football)

Click here to go back to the Baseball Vet.